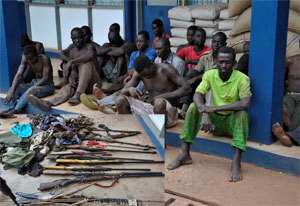 Arrested suspects. Inset-Some weapons
One person has been confirmed dead in a renewed communal clash among four communities near Savelugu in the Savelugu-Nanton district of the Northern Region.
The latest clash, which has also left four others with various degrees of injury, comes less than a week after a similar one broke out in the Bukpurugu-Yunyoo district.
The body of the deceased, identified as Mumuni Dramani, 40, has been deposited at the Tamale Teaching Hospital Morgue while Mahama Iddrisu, 40, Yakubu Dramani, 40, Mumuni Dramani, 30 and Mumuni Fusheini, 28 are said to be in critical condition and on admission at the Tamale Teaching Hospital.
The latest clash is as a result of an attack on one Adam Yahaya, a resident of Kulmanga, by residents of Yilonayili yesterday dawn.
Its remote cause is directly linked to a long-standing struggle over a parcel of land located near the Tamale airport.
According to Northern Regional Police Public Relations Officer (PRO) ASP Ebenezer Tetteh, Kulmanga, Yilonaayili, Kogni and Nyanshei were all adjourning farming communities off the Bolgatanga-Tamale highway.
The three communities, it was gathered, had on several occasions clashed with Kulmanga over parcels of land, the reason for the attack on Adam Yahaya which resulted in the bloody clash.
He told the press that no sooner had the kinsmen of Yahaya come to his rescue than the residents of the other communities massed up and attacked them, triggering the violence which degenerated into a gun battle.
A combined team of armed police and military personnel was immediately deployed to the scene of the incident and on arrival, it managed to arrest 29 suspects who at the time were busily exchanging gunfire.
The security managed to retrieve six locally-manufactured guns, two shotguns, a locally-manufactured pistol, three bow and arrows, nine cutlasses, 41 live cartridges, a number of military uniforms and several amulets and talismans.
The suspects, at the time of visiting the Regional Police Headquarters, were being screened and according to ASP Tetteh, they would be investigated for use of offensive weapons and murder.
The latest violence comes in the wake of concerted efforts by various stakeholders to calm down the ethnic clash at Kpemali which claimed three lives and left several dozens of persons with various injuries.
The Regional Police Command therefore asked residents to be mindful of their actions which breached the peace in the area, indicating that any such person arrested would face the full rigors of the law.
Security has since been stepped up at Kulmanga, Yilonaayili Kogni and Nyanshei to avert any possible clash.
 From Stephen Zoure, Tamale