ASONGTABA supports orphanage in Bolgatanga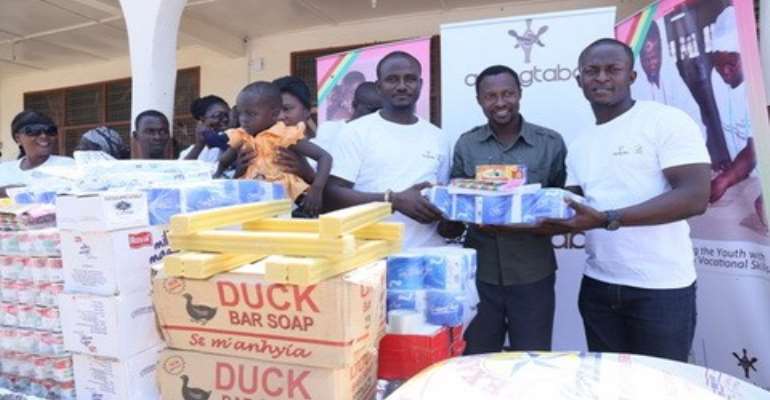 Asongtaba Cottage Industry and Exchange Programme, a skills-development non-governmental organization, has donated products worth seven thousand cedis to the God's Love Ministry Orphanage at a ceremony in Bolgatanga in the Upper East Region.
The products include bags of rice, sugar, milk, detergents, teaching materials, cooking oil, tin tomatoes, soft drinks and biscuits.
The Business Development Manager at Asongtaba, Faisal Keliou who represented the Executive Director told journalists the donation formed part of the company's Corporate Social Responsibility to support the needs of the inmates.
"We at Asongtaba are very excited to be carrying out this exercise today because we feel it will make a difference in the lives of children at the orphanage, and the success of Asongtaba will not be measured by how much money we have made, but how many lives the company improves." said Mr. Keliou.
He announced plans to adopt the Orphanage in the long term and the provision of skills training for inmates who excel in their academic endeavor.
Mr. Keliou was assisted by the Media Relations Manager at Asongtaba, Kweku Obeng-Adjei and some staff of the company.
The Director of God's Love Ministry Orphanage, Felix Akampoi received the items on behalf of the Orphanage.
He thanked the management and staff of Asongtaba for their kind gesture.
Mr. Akampoi said the Orphanage was established in 1996 to cater for the vulnerable children especially those born to mentally challenged parents.
He said the orphanage has been engaged in several community programmes including the education of families of neurotic children to accept them back to the family.
Mr. Akampoi also appealed to government and corporate entities to continue to support orphanages especially those in rural communities since they lack resources to sustain their operations.
The youngest of the children is about 4 months whiles the oldest is seventeen.