UNDP tags Ghana as symbol of democratic stability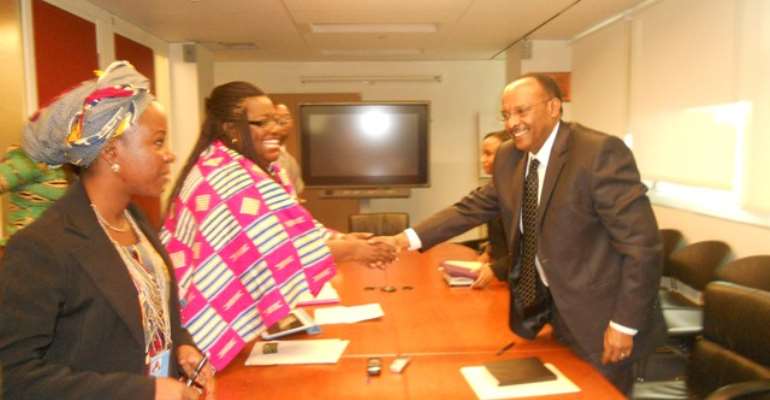 oye
New York, March 6, GNA - Mr Tegegnework Gettu, UNDP Assistant Secretary General and Director for the Regional Bureau for Africa, on Wednesday described Ghana as a symbol of democratic stability in Africa, whilst congratulating the nation on its 56th Independence Day celebration.
He also commended Ghana's progressive mainstreaming of gender issues and political participation of women in front line national politics but noted that as African pace setter, Ghana should intensify efforts at broaden the scope for political empowerment of women.
Mr Gettu therefore suggested that Ghana collaborates with Kenya who have established strong pillars for women participation in mainstream party politics; 'It will be dynamic development for Ghana and Kenya to share experiences and in order to broaden the scope of women participation in politics'.
Speaking during interaction with Ghana's Minister for Gender, Children and Social Protection, Nana Oye Lithur on the sidelines of the on-going 57 session of the United Nations' Commission on the Status of Women at the UN Headquarters in New York, Mr Gettu introduced Ghana to the Gender Thematic Trust Fund (GTTF).
He said the GTTF was established to meet the challenges of attaining gender equality and achieving the MDGs. The fund provides donors with an efficient way to channel funds towards achieving gender quality results.
Nana Oye Lithur used the occasion to brief the UNDP representative on the political developments in the country, gender sensitive actions adopted by governments and the gender mainstreaming sensitivity of President John Dramani Mahama.
She explained that the government under President John Dramani Mahama seeks to strengthen and broaden the scope of gender mainstreaming and gender budgeting as well as providing social protection.
Nana Oye Lithur said the country has also developed a draft gender bill after broad based consultation with civil society, which would be tabled before parliament.
She also noted the progressive achievement in mainstreaming women in the front line politics especially in getting more women elected into parliament; 'the path has not been easy but we are making inroads…but I must admit we need to double up our efforts.
'We will explore the possibility of working with Kenyans to share ideas on women involvement in frontline party politics'. 
GTTF has enabled programme countries to achieve impressive development results, breaking new ground in areas where gender issues are often unaddressed -- such as climate change.
The GTTF has received nearly million and has funded projects in over 65 countries. Over 70 percent of these projects have been in least developed countries and Africa.
The funds is focused on thematic areas for strengthening national capacities to integrate gender equality in national development policies and budget frameworks and promotes women's economic empowerment, including women's economic opportunities, legal status, rights, voice, and their participation in the economy.
 
  (By Francis Ameyibor, GNA Special Correspondent, UN New York)