The New International Airport And The Tribal Politics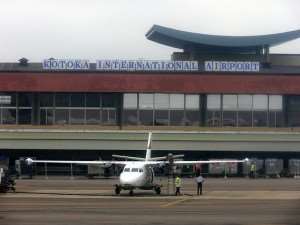 Tribal politics have for ages retarded development in most African countries. It together with ethnicity are exploited by corrupt leaders and opportunists bringing a wave of negative tendencies of cronyism, nepotism, corruption and conflicts in its trail.
In simple terms, politicians in Africa are happy to exploit the ignorance and illiteracy that have enslaved and prevented its people from taking their rightful place in the world community.
Until the late President Atta Mills took office in January 2009, Ghana was exempted from this malady. During the leadership of former President Rawlings, all the 10 regions had their fair shared of the national development including Ashanti region, the adversary region of Chairman Rawlings's hegemony. The current Kumasi airport edifice was erected in 1993 by Rawlings.
Even the defunct National Agric Show in my hometown Nkawie, which is also the hometown of former President Kufuor, was also built by Mr. Rawlings. Similarly, President Kufuor was also indifferent. He equitably distributed the national cake. Keta sea defense wall and several other developmental projects in Volta Region were constructed under his administration.
Even members of his own NPP party, including Hon Kennedy Agyapong weren't comfortable with kind of massive developmental projects undertook in Volta during those period. Apparently there were not any select and rule during those regimes of governance.
Unfortunately, this situation has changed completely. Since Mills-Mahama took in charged of helms, barely would you notice a single project started by erstwhile Kufuor administration in Ashanti region which has seen completion. Central market footbridge, Boankra Inland Port, Sofo-line interchange, Komfo Anokye interchange, Asokwa-Atonsu dual carriage, Kumasi Military hospital just to mention few. One may asked why such cold shoulder to Ashanti region?
Usually, grand ideas have grand machinations and it is the case that those who have the golden key make the rules but this case is different. Rather holders of the golden key volition which ought to be opened and which not to without any merit. That is Anti-Meritocracy. Seemingly, tribal Selective development has become the apocalypse plaguing Ghana currently.
In recent years the ability of our major international airport to continue to provide a first class service has been brought into question as capacity has become increasingly stretched. With Kotoka as the only international airport, the need for another one is prospected, since airports are gateways to the world, vital for business activity. However, I was stupefied when I heard President Mahama's plans to construct this second airport in Accra.
I asked my self was the president aware of the current development in Accra, at the time when many opinion leaders such as the Okyenhene, Osagyefo Amoatia Ofori Panin, are advocating the relocation of many ministries to other regional capitals?
Contemporarily, critical thinking is the name of the game. What he needs is critical thinking and is a must, with a dash of commonsense and a world view, if president Mahama cannot see more cons than pros with the advent of another international airport in Accra. Turning a blind eye to our problems has always been the hallmark of Africa leaders.
Apart from Botswana, where their leaders have relatively been able to use their resources to advance the development of their people, the rest of Africa is nothing but a bane. They are corrupt, ignorant, arrogant and visionless.
They can neither think out of the box nor understand what it means to be a leader. They only find pride in rural life being nothing but a condemnation to abject poverty, hopelessness, misery and frustration.
We should be careful how developments are done in this country. Ghana is gradually turning to Accra. We are putting all our eggs in one basket. You have to travel to Accra to register a company, to acquire police report and even churches established in other regions of the country are transferring their headquarters to Accra. That is the kind of country we are building.
Moreover, you don't need lenses to see Accra's problems. Inundating, traffic and road congestion are terrible. Hardly a week passes by without a hawker sustaining serious injuries or even being killed.
If because of tribal politics government cannot make Kumasi airport, which is the second largest city in the country, an international airport, then it should be given to a private investor or company.
If a private company like AngloGold Ashanti was able to use just $3million to construct the second largest airport in the country in Obuasi, then how much millions of dollars is needed by such private organization to expand the facilities in Kumasi airport to international standard.
This is not a rocket science. Accra doesn't need another airport. Just make used of the vast land in and out of Kotoka. Anyone with any semblance of reality will clearly see that Kumasi International airport will not only encourage investments but will increase employment leading to better quality of life in the Northern sector of the country.
It will provide easier access for foreign Investors or Entrepreneurs to take advantage of Kumasi which is the cultural capital of Ghana and sub-Saharan Africa.
I hope that some of the advice I have offered will be adhered to by President Mahama so that Ghana can also take her rightful position in the world community of nations.
Mahama should leave a positive blemish in Ashanti region just as his party founder did in Kumasi and other Ashanti towns including Nkawie, President Kufuor's hometown. He should contemplate the benefit associated with Kumasi Airport nudging world standard and stop this insidious tribal politics.
Kumasi is cosmopolitan city and not inhabited by only Ashantis. Even the 2012 elections reveals Ashanti region as NDC second stronghold, unless of course those figures were inflated.
Just travel to Kumasi airport and you will understand why Kumasi needs an international airport and why the president said the airport is now busy than the Kejetia lorry park.
Other than that then Ghana needs to change from central government to federal state so that the rest of the nation can make their own plans for self development.
Adomako M. Kufuor (unemployed graduate)
Email: [email protected]
Join me on facebook: http://m.facebook.com/amkufuor?refid=8