Blast in northern Mali after foiled Islamist attack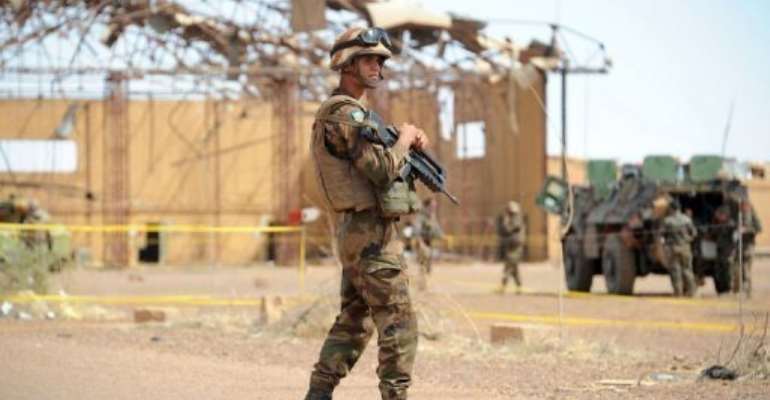 GAO, Mali (AFP) - A massive explosion was heard near Gao in northern Mali, hours after villagers near the city detained two youths preparing for suicide bombings.
A French military source said the blast, which went off Saturday at around 11:00 pm (2300 GMT), happened some 10 kilometres (six miles) away from the French military base at the city's airport, but could provide no further details.
An AFP correspondent said the blast was audible from Gao, the main city in northern Mali which was only recaptured from the Islamists late last month.
At about half past midnight Sunday, French military helicopters could be heard in the air.
The city was already on edge after what is thought to have been Mali's first suicide attack on Friday, when a young Tuareg blew himself up, slightly injuring a Malian soldier at the northern entrance to the city.
Malian troops reinforced army checkpoints with sandbags and heavy machine-guns and stepped patrols.
Then on Saturday morning, residents of a village near Gao detained two young men they said were carrying explosive belts on the road leading to the site of Friday's attack.
The latest attacks came as reports said that the bodies of several people, including three Arab shopkeepers recently arrested by Malian troops, had been discovered in a grave in Timbuktu further to the northwest.
The discovery was made Friday, Mauritanian online news agency ANI reported.
Timbuktu has been the scene of reprisal attacks by black Malians against Arab and Tuareg residents accused of supporting the Al-Qaeda-linked Islamist rebels who until recently occupied the city.
Rights groups have already accused the Malian army of summary executions of Tuareg and Arabs and called on the government to protect them from reprisal attacks.
France launched its operation on January 11 as the Islamists moved out of their northern strongholds and headed south towards the capital Bamako.
The French-led campaign not only pushed the insurgents back, but forced them from the northern towns they had controlled.
But they are thought to retain a presence in the vast desert spaces of the country's north.
The Movement for Oneness and Jihad in West Africa (MUJAO) claimed Friday's suicide attack and vowed to carry out more against "the Malian soldiers who chose the side of the miscreants, the enemies of Islam".
MUJAO is one of the Islamist groups that held northern Mali for 10 months before France sent in its fighter jets, attack helicopters and 4,000 troops.
France is now anxious to hand over the operation to UN peacekeepers amid fears of a prolonged insurgency.
In Bamako Saturday, heavily armed Malian soldiers surrounded a base housing rival paratroopers where a firefight the day before killed two adolescents and wounded another 13 people.
The paratroopers are loyal to ex-president Amadou Toumani Toure, ousted in a March 2012 coup. They were protesting an order absorbing them into other units to be sent to the frontline.
The nation imploded last year after the coup, waged by soldiers who blamed the government for the army's humiliation by a rebellion among the Tuareg, who were fighting for a homeland in the north of the country.
A month later, paratroopers launched a failed counter-coup that left 20 people dead.
With Bamako in disarray, Al-Qaeda-linked fighters hijacked the Tuareg rebellion and took control of the north, imposing a brutal form of Islamic law.
Friday's decision by Malian prosecutors to issue international arrest warrants Friday for 26 Tuareg and Islamist rebel leaders for terrorism, war crimes and drug trafficking was condemned in some quarters.
"I don't see how they're going to negotiate with people they want to arrest," a regional security source said.
The Islamic Movement for Azawad (MIA), which recently broke away from Islamist group Ansar Dine (Defenders of the Faith) and renounced "extremism and terrorism", also condemned the move.
"Mali is showing its determination to thwart a political solution, the approach advocated by the international community," said the group, whose leaders were among those charged.
Mali's interim government has rejected negotiating with Islamist groups but said it is willing to talk with the Tuareg rebels if they drop their independence demands.
In Paris, prosecutors brought terrorism charges Saturday against four men arrested last week as part of an investigation into a network to send jihadists to fight in Mali.