Foreign troops kill seven ex-rebels in C. Africa: UN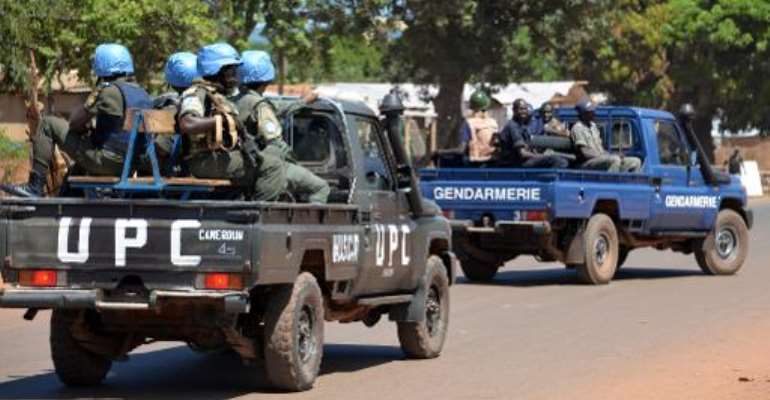 Bangui (Central African Republic) (AFP) - Foreign soldiers killed seven former rebels of the mainly Muslim Seleka and arrested some 20 others in Bria in the Central African Republic, the United Nations said in a statement.
"The toll was seven dead, nine wounded and about 20 arrested from the ex-Seleka, while there were no victims among the international forces," the UN mission in CAR (MINUSCA) said in the communique obtained by AFP late Wednesday.
Fighters from the disbanded rebel coalition, which seized power in March 2013 for 10 months, were the first to open fire in Tuesday's battle as UN soldiers backed by French troops moved in to oust them from public buildings they had occupied for months.
MINUSCA spokesman Hamadoun Toure said he regretted "that such intransigence on their part cost the lives of ex-Seleka fighters" in Bria, a key mining hub in a diamond-rich central region of the deeply poor, landlocked nation.
The UN soldiers "met with immediate hostility from the armed group, leading to determined retaliation by the international forces" during an operation aimed at "putting an end to the existence of a parallel administration", MINUSCA said earlier.
The peacekeeping troops also sought to clear the way for public consultations in Bria, where the former rebels prevented a visit in late January by a government team seeking local input ahead of a forum for dialogue and national reconciliation in the capital Bangui.
After the Seleka ousted president Francois Bozize almost two years ago in the latest coup to rock the unstable country, the CAR descended into conflict that took on an unprecedented religious dimension.
Militias were formed in largely Christian communities to avenge atrocities by renegade Seleka forces, and both sides are accused by human rights monitors of serious abuses, including killings, rape and pillage.
The presence of three international forces - France's Operation Sangaris, the European Union's Eufor RCA and MINUSCA - has restored stability in the southern capital and some other zones, without pacifying the whole country.