S.African businesswoman set to threaten ANC's dominance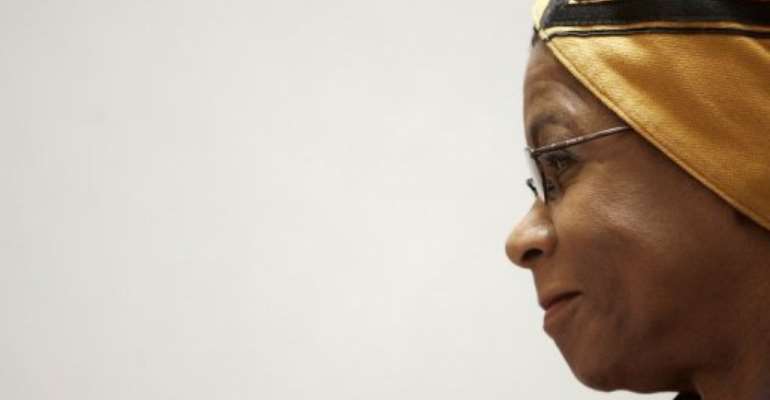 JOHANNESBURG (AFP) - One of South Africa's most dynamic women appears set to enter politics, setting off rampant conjecture about whether she could finally help forge a viable alternative to the seemingly unshakeable African National Congress.
Something close to hysteria greeted news that the celebrated academic and liberal darling Mamphela Ramphele -- a former World Bank managing director and anti-apartheid activist -- has been wooing potential donors to a new party.
The idea of a political group one day emerging as a serious rival to the ultra-dominant African National Congress is a perennial topic of conversation among South Africa's political class, as the ANC has maintained a firm grip on power since the end of apartheid in 1994.
As a highly qualified black woman with a solid history of anti-apartheid struggle, including a relationship with slain Black Consciousness leader Steve Biko, Ramphele has a formidable profile in a nation obsessed with identity politics.
"She is one of the great success stories of post-apartheid South Africa," said Adam Habib from the University of Johannesburg.
After she founded the Black Consciousness movement with Biko, who was murdered in police custody in 1977, authorities banished her to a remote northern town until 1984.
A doctor and successful businesswoman, the 65-year-old Ramphele holds a commerce degree and a doctorate in social anthropology, and was the first black woman to run a South African university. Today she sits on the board of several companies.
Although she has frequently joined causes championed by the ANC, she has become increasingly outspoken about the party's rule.
She recently wrote a book that was critical of the country's trajectory and in interviews has called the ruling party "corrupt" and "unaccountable".
The ANC, Ramphele argues, has failed to improve the lot of impoverished blacks in what remains one of the world's most unequal nations 19 years after the end of apartheid.
"Is it possible to have a liberation movement transforming itself into a democratic governing party?" she asked in a BBC interview last year.
"There were glimpses of it during the (Nelson) Mandela administration... but the rest of the ANC, quite frankly, from the very beginning was more about taking control and... stepping into the shoes of the former coloniser."
Recently Ramphele is said to have been fund-raising in the United States, where she confessed "she is now going into politics to save the country", according to the City Press newspaper.
On Tuesday she went out of her way not to deny those reports in a statement.
"I have always been clear in articulating my views on matters of public importance and will speak on my own behalf about any decisions I might take about my future engagements."
Susan Booysen, political analyst with the University of the Witwatersrand in Johannesburg, said Ramphele is "really pre-empting this through her publications and social commentary that there is some political party or some political role in her future."
Her timing is impeccable, just one year before presidential elections.
And Ramphele's squeaky-clean reputation could give the ANC a run for their money, media and analysts agree.
"I think that South Africa can only benefit from a viable opposition party," Habib said.
"If Mamphela Ramphele can come in and facilitate that, it will be good for the system and good for accountability."
Booysen agreed Ramphele could "break the mould" of the country's politics.
"If she's to start a party it has the potential to undo the stagnation we've seen in South African politics," she said.
Some speculated she might join main opposition party the Democratic Alliance (DA), but the party struggles to appeal to the poor masses -- the backbone of the ANC's electoral dominance.
"Its image continues to remain the image of a rich person's party," Habib said.
But without the wide network of an established party or support base, it will be a long road for any new party.
"The question is can she establish a viable opposition party? We had many attempts at establishing opposition parties. Most have petered out," Habib said.
A case in point is the Congress of the People. Founded by ANC dissidents in 2008, it drew seven percent of votes in general polls a year later.
In-fighting has now driven the party to the brink of implosion.