EU pledges "New Deal" for Somalia in leader's first visit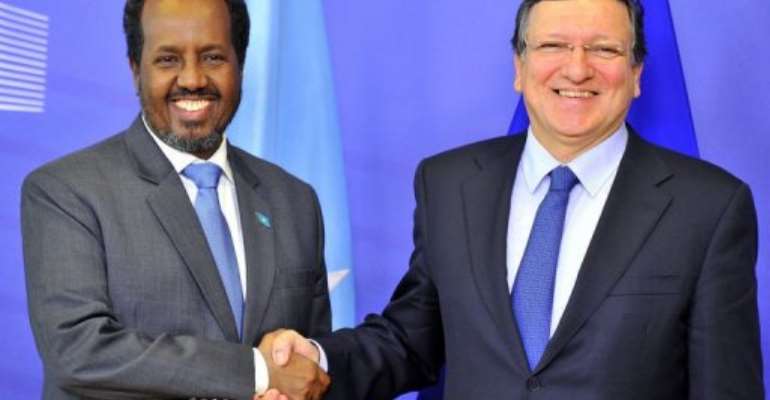 BRUSSELS (AFP) - Somalia's new leader secured promises of an economic and political "New Deal" during his first European Union visit Wednesday, two weeks after the nation's government formally won US recognition.
Taking the Horn of Africa nation one more step forward in its return to the international fold after two decades of conflict, Somali President Hassan Sheikh Mohamud won the support of top European Union officials on the first of a two-day stop in Brussels.
On Thursday he meets with the EU's 27 foreign ministers before going on to London.
"We agreed to enhance relations between Somalia and the EU," said European Commission president Jose Manuel Barroso. "We believe there is a real commitment to go forward."
Hailing "a new era" in ties, the bloc's foreign policy chief Catherine Ashton announced the EU would host a global conference in the autumn to "come up with a New Deal for Somalia that will help deliver political, security and development support."
"Somalia has come a long way," said Ashton, pointing to a 95 percent drop in piracy off the Somalia coast and the beating back over the past two years of Islamist Shehab insurgents.
The EU has funnelled some 600 million euros into Somalia over the last five years as part of a three-pronged approach of defence, diplomacy and development, a winning formula likely to be tried in the coming weeks in beleaguered west African state Mali, which has likewise come under attack from Islamist fighters.
But Mohamud said his nation needed to move from being a country "in relief" to one in recovery.
"Somalia is where Europe was in 1945," Mohamud said. "Everything is zero, everything has to be started from scratch. And we cannot do it alone.
"We need the support of the whole international community and in particular the support of the European Union."
"We need engagement that looks like the Marshall Plan," he said referring to the US-funded plan to rebuild Europe after World War II.
EU president Herman Van Rompuy said Mohamud's visit, his first to Europe, came as Somalia was on a "path to transforming and taking its rightful place in the community of nations."
A university lecturer, Mohamud was elected in September after eight years of transitional rule by a corruption-riddled government, raising hopes of an effective central government after more than two decades of chaos and war.
Recent months have seen a 17,000-strong African Union force, fighting alongside government forces -- many of them EU-trained -- and Ethiopian soldiers remove Shehab insurgents from the capital and from key towns.
Last week, the bloc extended an EU mission to train Somali soldiers for another two years at a cost of around 11 million euros. Launched in 2010 it has trained some 3,000 Somali troops.
The EU's anti-piracy mission off the Somali coast, EUNAVFOR, has also been extended until December 2014, and the EUCAP Nestor mission assists Somalia and other countries to improve maritime security.
A senior EU official said the visit "symbolises a highly significant shift in the way the world sees Somalia and Somalia sees the world".
"We want to encourage Somalia, say we are with them, that we take them seriously," he added.
Next steps will necessitate Somalia doing a deal with its global partners to clear its huge financial arrears and put in place international aid programmes to help establish the government's legitimacy.
Mohamud's administration is working also to continue extending control over the territory and improve security while easing testy relations with its neighbours.
Two weeks ago Mogadishu cleared a crucial diplomatic barrier when the United States recognised its government for the first time since 1991.