Extradition of Katinan continues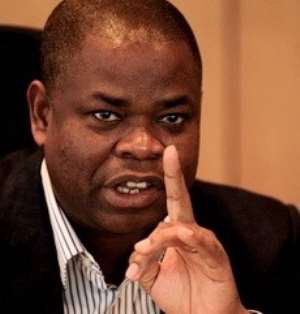 Justin Katinan
The extradition process of Justin Katinan, an ally of former Ivorian President Laurent Gbagbo, continued on Tuesday as 20 counts of conspiracy to rob and robbery were leveled against him.
The court did not take the plea of Katinan, who was Minister of Budget during the rule of Gbagbo, though the facts were read to him in the presence of his counsel, Mr Patrick Sorgbodzor.
Katinan is accused of conspiring with armed military men to rob eight banks and financial institutions of billions of dollars in February 2011 and robbery in his country.
Chief State Attorney, Mr Matthew Amponsah, contended that Katinan, according to eye witnesses, took part in the looting of state funds.
Mr Amponsah, said Katinan, a former Spokesperson of former President Gbagbo was a fugitive, facing an extradition process pursuant to Ivorian and Ghanaian laws.
In May 2011, the Judicial Officer of Treasury of La Cote d'Ívoire acting on behalf of his country and several Managing Directors of companies, banks and financial institutions, submitted several complaints of robbery, embezzlement of public funds and looting of state funds.
Mr Amponsah said the complaints were made by the Public Prosecutor in Abidjan, adding that investigations established that during the second run-off elections in Cote d'Ivoire, the country was plunged into several crises, which attracted sanctions from the International Community.
The Chief State Attorney said supporters of President Gbagbo, who refused to accept the results of the elections, robbed banks to assist President Gbagbo to survive.
Mr Amponsah said several financial institutions became victims of robbery, perpetrated by armed military men, who used military vehicles to carry out their operations.
He said several billions of dollars were lost through diversion of state funds and after the crises, Ivorian authorities commenced criminal investigations into receivers and perpetrators of looting of state funds.
Mr Amponsah said investigations conducted by the Police and Courts, established that Katinan allegedly took direct and active part in the looting of public funds.
According to the Chief State Attorney, eye witness claimed that Katinan personally used his position to compel managing directors of banks and financial institutions to accede to the robbers through the use of intimidation and threats.
Mr Amponsah said Katinan who had sought asylum in Ghana was arrested on August 24, 2012 at Kotoka International Airport, following the issuance of International Arrest Warrant.
Mr Amponsah said the state would provide witnesses to tender various exhibits in the matter.
Hearing continues on February 13.

Story by Ghana/GNA