French-led forces retake key north Mali town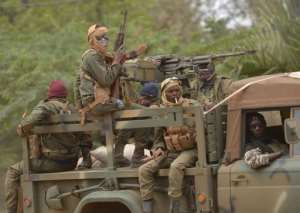 Malian soldiers patrol aboard a vehicule mounted with a machine gun in a street of Diabaly on January 26, 2013. By Eric Feferberg (AFP)
BAMAKO (AFP) - French-led troops recaptured the Islamist stronghold of Gao on Saturday, in a major boost to their 16-day-old offensive against Al Qaeda-linked rebels holding Mali's vast desert north.
France's Prime Minister Jean-Marc Ayrault said the nation's troops were also advancing on Timbuktu, another key northern town held by the insurgents.
The seizure of Gao, the most populated town in Mali's northern region, which is roughly the size of Texas, was announced by the French defence ministry and confirmed by Malian security sources.
France said troops from Niger and Chad "will pick up the baton" and that the mayor of Gao, Sadou Diallo, was due to return from the capital Bamako, 1,200 kilometres (750 miles) to the southwest.
"A first contingent of Malian, Chadian and Niger troops are presently in Gao to help secure it," a Malian security source told AFP by telephone from the town. They had been flown in from Niamey, capital of neighbouring Niger.
"The French and African forces are in 100-percent control of the town of Gao," another Malian security source said. "There is popular rejoicing and everyone is very happy."
Other soldiers from Chad and Niger meanwhile were moving toward the Malian border from the Niger town of Ouallam, which lies about 100 kilometres southeast of Gao.
French-led forces had overnight Friday seized Gao's airport and a key bridge on the southern entrance of the town, held by the Al Qaeda-linked Movement for Oneness and Jihad in West Africa (MUJAO).
There had not been substantive fighting around Gao, said a spokesman for the French military command, but there was some sporadic gunfire from "terrorist elements".
Defence ministry sources in Paris described as "plausible" a report in the Le Monde, citing military sources, that hundreds of Islamists had died since the French military intervention in Mali.
In April last year after a coup in Bamako, an alliance of Tuareg rebels who wanted to declare an independent homeland in the north and several hardline Islamist groups seized Gao, Timbuktu and Kidal.
The Islamists quickly sidelined the Tuaregs and imposed their harsh interpretation of Islamic sharia law. Transgressors were flogged, stoned and executed, they banned music and television and forced women to wear veils.
The Islamist groups include Al-Qaeda in the Islamic Maghreb (AQIM); the MUJAO, which is an offshoot of AQIM; and homegrown Islamist group, Ansar Dine.
French Prime Minister Jean-Marc Ayrault said the troops were currently "around Gao and (will be) soon near Timbuktu," further to the west. A fabled caravan town on the edge of the Sahara desert, for centuries it was a centre of Islamic learning.
"The objective is that the African multinational force being put together be able to take over, and that Mali be able to begin a process of political stabilisation," he said.
The MUJAO meanwhile said it was ready for negotiations to release Gilberto Rodriguez Leal, a French national of Portuguese origin kidnapped in western Mali in November.
But Ayrault snubbed the offer. "We will not give in to blackmail," he said.
"We cannot cede to terrorism because if this is the case they will win every time."
-- Slow deployment of regional forces --
West African defence chiefs meanwhile reviewed the slow deployment of regional forces to bolster the French-led offensive at an emergency meeting in Ivory Coast boosting their troops pledges to 5,700 from the previous 4,500.
Chad, which neighbours Mali but is not a member of the Economic Community of West African States raising that force, has separately promised 2,000 soldiers.
A fraction of the African forces has arrived in Bamako, the Malian capital in the south of the country, and is slowly deploying elsewhere. So far however, the French and Malian forces have done all the fighting.
France has already deployed 2,500 troops to Mali and its defence ministry says 1,900 African soldiers are already on the ground there and in Niger.
Aid agencies have expressed concern about the growing food crisis for civilians in the vast semi-arid north of Mali and the drought-stricken Sahel as a whole.