I Leave The Vengeance To God—Kofi Adams Laments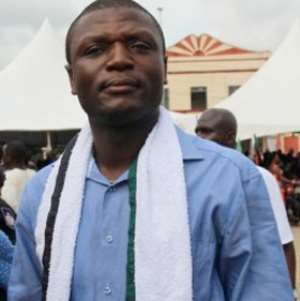 Kofi Adams
The spokesperson for the Rawlingses, Kofi Adams has stated that he will not be moved by the actions of some leaders of the ruling National Democratic Congress (NDC) which has impeded his progress within the party but will rather "leave vengeance to God."
The leadership of the NDC on Tuesday disqualified Mr. Adams who was one-time the Deputy General Secretary of the party from contesting the NDC's primaries ahead of the Buem by-elections.
According to the party leadership, Mr. Adams is still under suspension following a leaked tape with a voice purported to be his promising to do everything possible to prevent the late Professor John Mills from securing a second term in office. Mr. Adams however denied the allegations and sued the party.
The General Secretary of the NDC, Johnson Asiedu Nketia told Citi News, "unless and until we conclude the disciplinary proceedings his right to participate in elections under the sponsorship of the party is extinguished."
Speaking on Citi FM's Eyewitness News on Wednesday, Kofi Adams in response to exclusion by the party stated that "those who want to continue to divide, they can go ahead and do whatever they want to do but I will not be moved by their actions to think that I will do anything."
Quoting from the Bible, Mr. Adams said: "I will leave for them a biblical verse for them to go and read that is Romans 12: 17-21. What is says is a lot that 'I will not be angered, I will not refuse to even give water to those I perceived as against me, those I perceive as those who don't want my progress, those who want to do me evil, I will continue to give them water and I will leave vengeance to God himself."
He, however, refused to mention the persons who according to him by their actions are dividing the NDC.
"The evil forces know themselves. Those who did everything possible including the fact that even when many disagreed with the position that they were tabling at the meeting yesterday, refused to put the matter to a vote because they knew if it was put to a vote at the meeting yesterday, majority were going to vote in my favour."