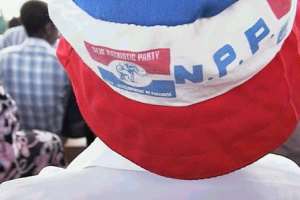 US Gen. George Patton once said, "A coward is someone who in a bad situation thinks with his feet" As one illustrates "death is the most-feared – he's one of the oldest horsemen in the fiction. They look at him as a big brother. He's feared just because when he really gets down to business, he is the dealer. That's his trade. That's his business. He takes people down. This is the exact characteristic of Nana Akufo Addo, the man who wants to be Ghana's president by hook or crooks.
Anyone who has the power to make you believe absurdities has the power to make you commit injustice. And as Aung San Suu Kyi said "it is not power that corrupts but fear. Fear of losing power corrupts those who wield it and fear of the scourge of power corrupts those who are subject to it. This is exactly the tactics of NPP to come to power by imposing fear through means of inflammatory speeches. One thing is certain, when a nation is at war, everybody is at war. Here for the first time Ghanaian eyes have been opened to the true nature of the war. We want no more false hopes and illusions. We want bravely to look the facts in the face, however hard and dreadful they may be.
Nana Akuffo Addo incitation of "All-die-be-die" is more inflammatory rather than political rhetoric which could to lead murder and extermination of his opponent should he loses 7 December 2012 election. The NPP flag bearer, Nana Addo, defended his warmongering mantra in recent BBC HardTalk interview where millions of viewers' world bore witness. Not long ago, on a radio interview, an NPP member of parliament for Assin North, Kennedy Agyapong, declared war on the Ewes and Gas in Kumasi to be killed. The "All-Die-Be-Die" has been NPP's manifesto in their campaign across Europe and North America.
Africa recently witnessed the genocide in Rwanda where Hutu majority used machetes and guns to kill 800,000 Tutsi minorities when Hassan Ngeze's "Kangura" tabloid paper described Tutsi as inyenzi (cockroaches) and Ferdinand Nahimana and Jean-Bosco Barayagwiza, owners of a radio stations direct and indirect incited murder of the Tutsi. In handing down the verdict against Ngeze, Nahimana, and Barayagwiza, it was declared that: "Without a firearm, machete or any physical weapon, thousands of innocent civilians were killed." In a similar trial after the Holocaust the international tribunal jailed Der Stürmer publisher, Julius Streicher, for his weekly ant-Semitism. Streicher was convicted with crimes against humanity with incitement to mass murder. From there on, incitement to murder and extermination was considered a form of persecution on political and racial grounds, punishable as a crime against humanity.
Yet Nana Addo and his cohorts are rather accusing the ruling government, NDC, of causing mayhem. Just last week, Nana Addo's home town, where he was a member of parliament for twelve (12) years the "All-Die-Be-Die" started. In a crash between NDC supporters and NPP supporters, five hundred of NPP supporters believed to have carried machetes with inscription on the blade Nana Addo and "All-Die-Be-Die". And also in a suburb of Kumasi, NPP supporters accompanied by their MP shot and wounded two people believed to be NDC supporters. Has the "All-Die-Be-Die" or "I declare war on Ewes and Gas" has begun?
In another development, Nana Addo has been quoted as saying "'Yen Akanfo die' when we come to power". But the so-called Akan is made of 52% of Ghana population where no government can ever win election among the Akan population. Interestingly, Nana Addo so as his predecessor, Ex-president J. A. Kufour chose their running mate from the same inferior tribes. Nana Addo has no remorse campaigning among the tribes he dislikes, such as Ewes, northerners, gas etc. Ex-president Kufour chose late Aliu Mahama from Yendi as his vice-president for eight years. However, when Aliu Mahama filed his nomination for flagbearship of NPP in 2008, he had less than 7% of the delegates vote. This confirmed the media report during NPP 2008 convention, which a secret tape reviewed the then NPP Chairman Mr. Haruna Esseku, that the President and his staff had been siphoning off party proceeds, from the "KICK-BACK". And Lord Commey. NPP National Organizer admitting to have commanded 1,100 "action troopers" who worked for the party to disrupt and intimidate the delegates who will elect their flagbearer. Mr Esseku was forced to resign to pave the way from Peter Mac Manu (Western Region Chairman) and Steven Ntim (half Bono, half Ashanti) in which President Kufour endorsed Mr. Ntim so that delegates will vote for his Ashanti candidate, Alan Kyeremanteng, to keep the Ashantis in power. It is therefore no wonder that President J. A. Kufour did not endorse his own vice-president bid. When Alhaji Aliu Mahama died early November 2012, Mr Kufour, paid him a glorify tribute that he was a statesman who served and was ready to serve his country. The question is, if he were good and the party accorded him respect, why didn't NPP and Mr Kufour rally behind him?
There is a lot of hypocrisy in contemporary politics. But it would be a mistake to assume that there is more hypocrisy around than ever before. There is just more political exposure than we think but people are critical with the truth which makes hypocrisy difficult to find. It will be recall that hypocrisies of the contemporary politics are relatively and potentially very dangerous. Some examples are the hypocrisies surrounding the politics of global warming, the GOP disagreement of Medicare for all Americans, Americans side-lining with some countries than others and political nepotism. In some arena, religion as a central category of political and intellectual engagement; the question of the authenticity of the religious beliefs of both politicians and citizens in one hand, is once again an issue, in domestic politics.
The sensitive question is what kind of hypocrite should voters choose as their next leader? The question seems utterly cynical. It is actually much more cynical to pretend that politics can ever be completely sincere. The most dangerous form of political hypocrisy is to believe that politics is without hypocrisy. We should not be misled to politics of hypocrisy let alone cynically embracing it. We should stop trying to eliminate every form of hypocrisy, and we should stop vainly searching for ideally authentic politicians. Instead, we should try to distinguish between harmless and harmful hypocrisies and should worry only about its most damaging varieties. What are the limits of truthfulness in politics? And when, where, and how should we expect our politicians to be honest with us, and about what?
Looking back at the political history of Ghana, there is no doubt that we have not been deceived by some people roaming down their ambition down our throats, or using others as scapegoats. In comparing todays' NPP seems to be acompelling indictment of the Bush Administration's cynical, anti-democratic manipulation of the media. A critical analysis of American politics today, reviews the curtain on the pervasive political manipulation of the media-and reveals just how fragile our democracy is. Among them are political advertisements and talk shows to mainstream media reporting, clearly showing how political discourse is now dominated by carefully scripted images and rhetoric, all in favour of the NPP and their cohorts. One cannot deny the propaganda style of Ashanti/Akyem politicians who hide behind the scene only to enjoy the fruits of what others have sacrificed their life for. Not to mention our journalism bought with money than to be sincere with the truth.
In early 1966 some members of Ghana military and the police, led by Lt. Gen. E.K. Kotoka hatched a plan, supported by CIA, to overthrow Dr. Kwame Nkrumah. An intelligent report indicated that Gen. A. A. Afrifa took a U-turn to support Lt. Samuel Arthur and Lt. Moses Yeboah, both from Bono and stationed in Ho Regiment to form Operation Guitar Boy to topple NLC. Eventually, Lt. Gen. Kotoka was assassinated and the same Afrifa tricked Arthur and Yeboah to confess their atrocity. Thinking they would be pardoned, the same Afrifa in covering up ordered the duo to be killed by firing squad. While Ghanaians and the world at large reject any form of power by the gun, NPP sees the overthrow of Dr. Nkrumah as the best coup d'état.
Hypocrisy about NPP is that, the party was not formed by the so-called Asantis and Akyems as they go about boasting of. The modern NPP was initiated by late Mr B. J. Da Rocha, former director of Ghana School of Law. Mr Da Rocha was a Nigerian born in Cape Coast. He was supported by late Mr Steven Kraku from Wasa tribe in Western Region and late Prof Folson, also a Fanti. Before inviting Nana Addo, late Prof. Adu Boahen, Mr. J. A. Kufour and others, the party was at its advanced stage. NPP constitution was wholly written by Mr B. J. Da Rocha. Ignorantly, the Ashantis and the Akyems today claims it as their bona-fide property. Even if the party bases its ideology on Danquah/Busia heritage, (to deceive the northerners, it is now called Danquah-Busia-Dombo), it cannot be Asanti/Akyem party. When Bafuor Osei Akoto initiated NLM in 1954, he did not think of forming a political party but rather a movement to present cocoa farmers grievances. Dr K. A. Busia joined the movement and became the leader after Ghana's independence. Seeing how weak the movement was, Dr. Busia allied with the Northern People's Party led by Chief S.D. Dombo, The Togoland Congress, the Muslim Association Party, the Aborigines Right Protection Society, the Ghana Congress Party and the Anlo Youth Organization to form United Party as the main opposition party. Dr. J. B. Danquah did not play any major role after his UGCC died a natural death. There is absolutely no doubt that the Asantis and the Akyems played insignificant role in what we have NPP today. Despite NPP claim of ideological base of Danquah-Busia-Dombo, ex-President J.A. Kufour did not mention or accredited the works of Dr. K.A. Busia in his 8-year presidency. Dr. Busia by any measures deserved to be named after prestigious highways than unnecessary people.
President Kufour named Accra major road after former Nigerian President Olusegun Obasanjo and promised and forced President Atta Mills to name another major road after former President George Walker Bush. Naming a street or road after someone was to honour him or her, for a remarkable achievement for the nation. Ghana is not the only country that enjoyed the America's Millennium Challenge Account and I wonder if other countries have named anything after George Bush. When the then PNDC named a circle after late Thomas Sankara, the Kufour government overturned and named it after Arko Adjei completion of trunk the road.
When JJ Rawlings NDC introduced the valued added tax (VAT), the opposition party demonstrated against it where some innocent people paid with their blood. However when NPP came into power in 2000, by the end of the 8-year term the VAT was increased from 12½% to 15%.
NDC is being looked at as Ewes and Northerners party but interestingly Mr. J.A. Kufour's cabinet was made of 85% Asantis and Akyem. Western Region by measurement delivers the highest revenue for Ghana. In Kufour's government the only cabinet minister the region had was Dr. Kwaku Afriyie, first as minister for land and forestry and later minister for health who helped to implement the NHIS. Sadly enough, in Mr. J.A. Kufour second term, Dr. Afriyie was dropped out leaving the Sefwians and the region no indigenous member with exception of Papa Owusu Ankomah, father Kwahu and mother Nzema and Joe Baidoo Ansah, who was appointed as a junior minister, in Kufour's cabinet. Those ministers and key officials believed to have been appointed from Sekondi/Takoradi were all Fantis and other tribes living there. They include Joe Ghartey, Gladys Asmah and former speaker of parliament, Mr. Sekyi Huges. The people of Sefwi are till now gnashing their teeth why their only son, Dr. Kwaku Afriyie, first vice-chairman of NPP, received a kick-out. Again, President Kufour gave vain promise of contracting a loan to build the railway network in Western Region.
Not until petroleum discovered offshore of Western Region, Sekondi/Takoradi and other towns were ghost towns. As if the Western people have not received much of the bullshit when their son, Dr. Kwame Nkrumah, used their resources to help build the nation and paid less attention to their plights. Nana Addo tells them boldly that he will use oil's revenue to finance his selfish free SHS.
The opposition party, NPP, claiming that the worst corrupt government Ghana has had Mills/Mahama led government. Ghanaian people voted for President Kufour because they wanted a change. Mr Kufour promised "Zero Tolerance For Corruption": by stating that "There will be, under this administration, zero tolerance for corruption," Preaching virtue and practising vice, his "Zero Tolerance For Corruption" test was by renovating his private home with state money and acquiring Hotel Kufour, known as "Hotel Wawa" among other assets. This sham is what Mr. Kufour calls Zero Tolerance For Corruption? To cover up the financial scandal for fear of vilification, this hotel was sold out before Kufour left office. President Kufour warned his ministers that he won't permit corrupt administration, this he said – "I won't tolerate vices but to set the records right". Retorting to President Kufour warning, one will ask if he did not see or hear his corrupt ministers like Dr. Dick Anane, Mr. Kwamena Bartels, Mr. Jake Obetsebi-Lamptey, Mr. Muktar Bamba, Mr. Isaac Edumadze, Mr. Yaw Osafo-Marfo, Prof. Christopher Ameyaw-Akumfi, Dr. Kwame Amoako-Tuffour, Dr. Kofi Konadu Apreku and the like who plugged the state into severe financial losses, not to mention Kwasi Osei, his foreign minister who imported rotten rice from India, Asamoah Boateng, his information minister who stole the state's fund and Kennedy Agyapong, who was contracted in the last days of Kufour to supply electrical equipment but did not do. Another corruption or shear wickedness saw the looting or stealing of furniture and fittings in state's bungalows occupied by NPP General Secretary, Nana Ohene Ntow and Mr Ebenezer Sekyi Hughes, speaker of parliament, after their term of office ended. In similar stream, before the naked eyes of Ghanaians, series of cocaine seized by the police and the drug enforcement agents, kept under strict surveillance at the police headquarters vanished in the thin air. In another circumstance, cocaine intercepted on the sea under the close watch by UK and US narcotic officers got missing and the suspects till now walked away free of charge. The current NPP flagbearer, Nana Akufo Addo, then minister of foreign affairs and later justice minister also issued Ghana's diplomatic passports to his nephew and girlfriend, who were arrested in Latin America for peddling in cocaine.
The minister of finance, Mr. Osafo Marfo, and senior minister, Mr. J.H. Mensah, on two occasions deceived the Ghanaians to have contracted loans. It was later on found out that IFC loan address was someone salon and the other was a garage. While Ghana has diplomatic abroad who could have verified the authenticity of these establishments, the duo and their delegates travelled excessively to negotiate the loans which turned out to be a scam causing financial losses to the state.
As if that's not enough, when in opposition NPP blamed Rawlings' NDC of selling our telephone network to Melekom Malaysia and later Telenor. But just about to leave office, Kufour sold the same national treasure to Vodafone BV, who had never operated landline in UK and The Netherlands, for a mere token. He was able to bribe the NPP MPs to vote in favour of plan. This same president after leaving office recommended MPs gratuity of $85,000 each and awarded himself $400,000 a year with luxury cars plus other amenities. They also sold state properties including bungalows and lands at very cheap prices among themselves. There are even no records that they paid for them.
Talking about foreign travels, President Kufour embarked on unnecessary foreign travels than any leader Ghana has had. And when President Mahama embarked on his Thank-You-Tour, NPP is crying foul. This I call hypocrisy, this I call lies among NPP party.

Lies are often much more plausible, more appealing to reason, than reality, since the liar has the great advantage of knowing beforehand what the audience wishes or expects to hear.
"Truthfulness has never been counted among the political virtues, and lies have always been regarded as justifiable tools in political dealings.
Ghanaians are accusing NDC of judgment debt. Looking at the judgement almost of the debts was created by NPP negligence. NPP has a precedence of condemning anything good other parties did but they could not do anything better.
Ghanaians must be wise in voting and vote not according to tribes or nepotism. Ghana cannot be a centre-right state but a democratic state where tribe is insignificant.
Vote NDC and retain President John Dramani Mahama in power.
Long Live Ghana,
Long Live NDC.

Lewis Kwame Addo
Amsterdam
[email protected]