November 19, 2012
|
General News
Aliu Mahama Was Ghana's First Muslim Vice President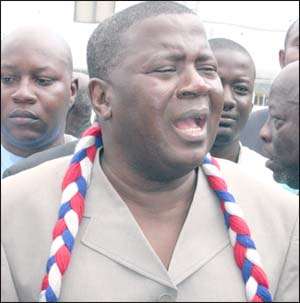 "Dagbon has lost its most illustrious son; the North has lost a powerful advocate; the Moslem community has lost a devout Moslem and its only Vice President in our history; the NPP has lost a valued and hardworking activist; John Agyekum Kufuor has lost his dependable and competent vice, who helped him reinforce the unity of our country; and the Ghanaian nation has lost a patriot and dignified public servant."
These were the words of the 2012 Presidential Candidate of the New Patriotic Party, Nana Addo Dankwa Akufo-Addo, when he paid glowing tribute to the late former Vice President of the Republic of Ghana, Alhaji Aliu Mahama.
Described by former President John Agyekum Kufuor as the best vice president any president could have, the 2012 Presidential Candidate of the New Patriotic Party, Nana Addo Dankwa Akufo-Addo, stated, in his tribute that Alhaji Aliu Mahama "was an exemplar of what a Vice President should be – supportive, encouraging and constantly watching out for pitfalls."
According to the 2012 NPP Presidential candidate, "it is not often that the New Patriotic Party takes someone to its collective heart so wholeheartedly, but our Vice President managed to charm most people in the party."
He continued, "Those who took his calm demeanour for weakness did so at their own risk, because he was not easily moved from his strongly held beliefs."
Nana Addo further stated that the late Vice President never shied away from hard work, and was enthusiastic in the NPP's campaign in the lead up to the December 2012 polls.
Nana Akufo-Addo recalled the support the late former Vice President offered, in terms of his time and resources, to his running mate, Dr Mahamudu Bawumia.
Two important milestones the former Vice President wanted accomplished, according to Nana Akufo-Addo, was for the NPP to "win over the Zongos and he wanted peace to return to his beloved Dagbon."
In Alhaji Aliu Mahama's honour, Nana Akufo-Addo has pledged to work to ensure lasting peace and reconciliation returns to Dagbon, as this will ensure that the former Vice President rests in peace.
Alhaji Aliu Mahama was born on the 3rd of March 1946. He became Ghana's first Moslem Vice President on 7th January 2001 and also the first vice President in Ghana's history to serve two full terms as Vice President. He passed away on the 16th of November 2012.