Prez Kufuor celebrates Pope's enthronement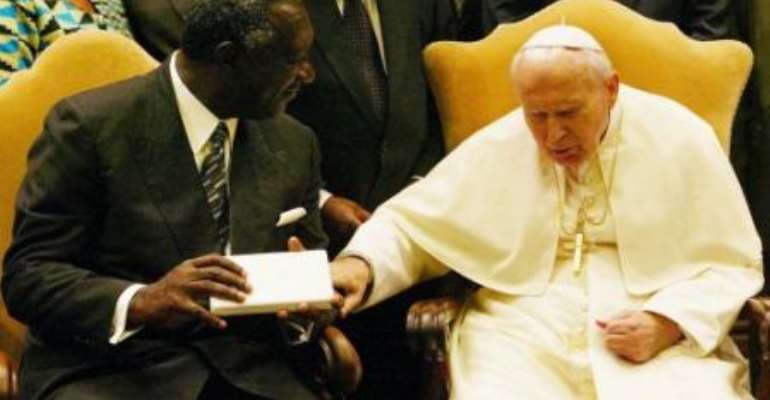 Accra, Oct. 19, GNA - President John Agyekum Kufuor and some Ministers on Sunday attended a service at the Holy Spirit Cathedral to celebrate the 25th anniversary of the enthronement of Pope John Paul II.
The President flanked by Mr J. H Mensah, Senior Minister, the Inspector General of Police (IGP), Nana Owusu Nsiah and Professor George Hagan, Chairman of the National Commission on Culture, joined the congregation for the anniversary mass officiated by the Most Reverend George Kocherry, Papal Nuncio to Ghana.
The occasion also marked the day the Pope declared Madam Theresa as Blessed in the Vatican and the need to embrace the mission of evangelisation.
Most Rev Kocherry, who represents the Pope in Ghana, expressed the Church's gratitude to the President and his entourage for joining Catholics to mark the enthronement of Pope John Paul II, the only Pope to visit Ghana.
Recounting some achievements of the Church under the Pope in Ghana, the Nuncio mentioned the recent elevation of the Arch Bishop of Cape Coast to the position of a Cardinal, the increasing of dioceses to 18 and his appointment as a substantive Nuncio for Ghana.
Hitherto, the Senegalese Nuncio had oversight responsibility for Ghana.
"These achievements are a great honour to the Church and the country as a whole," said Rev. Kocherry.
The Most Reverend Matthew Gyamfi, Bishop of Sunyani, described the Pope as "a true shepherd whose exemplary leadership had strengthened the path of the Christian faith in the world".
He said out of 264 Popes so far, Pope John Paul II is one of three who reigned for 25 years. The average reign is seven years. The Pope, a Polish, was ordained as a Priest in 1946 at the age of 26 and was elevated to a Bishop in 1958.
At the age of 58 years, he was inducted into the College of Cardinals making him one of the youngest in the history of the Church. A prolific writer and traveller, Pope John Paul II published a number of books and has undertaken about 102 international trips, making him the most travelled Pope in the history of the Church. Bishop Gyamfi said the Pope has upheld strong religious faithfulness and traditional values of the Church.
"He stood strictly against condoning artificial contraception, homosexuality and women priesthood in the Church," Bishop Gyamfi said.