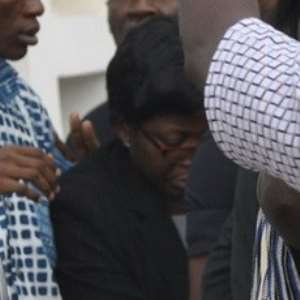 Mrs. Gifty Mawuenygah Tehoda, the Deputy Superintendent of Police (DSP) who was indicted in the cocaine-turned-baking-soda saga, which rocked the country last year, has been dismissed from the Ghana Police Service.
DSP Tehoda, who was Deputy Head of the Police Commercial Crimes Unit, was axed by the Police Central Disciplinary Board on August 28, 2012.
This followed the service inquiry which found her guilty of misconduct, a source close to the Police Headquarters disclosed to the Ghanaian Times on Thursday.
The Bureau of National Investigations implicated DSP Tehoda in the circumstance leading to the swapping of the 120 kilogrammes of cocaine exhibit which formed the basis for the trial of one Nana Ama Martin by an Accra Circuit Court.
The report by the BNI which was tasked by the late President J.E.A Mills to investigate the case, recommended that DSP Tehoda be held liable for the disappearance of the cocaine, on the grounds that she held nine meetings with Nana Ama Martin, while in custody at the Police Headquarters.

Story by Ghana/ The Ghanaian Times