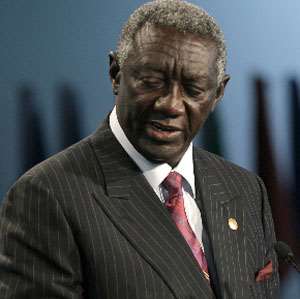 Former President John Agyekum Kufuor has urged leaderships in Nigeria to sacrifice to overcome drawbacks that beset the country to enable it to provide the arrowhead for the advancement of the continent, a statement issued and signed by Frank Agyekum, his spokesperson and special side said.
Mr Kufuor said: "Nigeria has every asset it should need to evolve into a strong, stable and prosperous state with powerful strategic influence spanning the entire continent of Africa and beyond.
"Unfortunately, however, this resourcefulness has not as yet impacted fully to the advantage of the nation as a whole, or to the rest of the continent which expects Nigeria to become a major growth pole.
"With the appropriate policies and institutions in place, Nigeria can fulfill this expectation and also join the BRICS nations."
Former President Kufuor was delivering Nigeria's 52nd Independence Day Anniversary Lecture in Abuja to a packed audience including President Goodluck Jonathan and Vice-President Namadi Sambo, speakers of the Senate and House of Representatives, Ministers of State and academicians.
His topic was: 'Nigeria – Security, Development and National Transformation'.
Former President Kufuor called for close collaboration among political leadership, businesses, public organizations and civil society to ensure that peace is guaranteed to help bring stability and development.
He said: "If there is no security, there is no liberty, and if there is no liberty, life reverts back to the law of the jungle – the survival of the fittest.
"Security thus anchors the attractiveness of a lotion for investment capital, citizens' productivity and ultimately, the overall success of an economy."
Former President Kufuor has since left Abuja for meetings in Geneva, Switzerland, Berlin, Germany and Oslo, Norway.
Former President Kufuor is expected back on 2nd October, 2012.