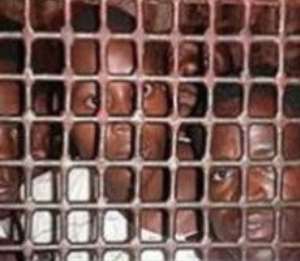 A 43 year old man, Kwabena Nyame is reported dead after he was assaulted by two police officers.
The suspect died Thursday at the sofoline Police cell in Kumasi after the assault.
The police confirmed the death of the suspect and have begun investigations.
Luv FM's Erastus Asare Donkor is in the family house of the deceased and reports of wailing.
According to him, the whole incident started with a brawl between two ladies.
One of the ladies reported the case to the police after which two officers were asked to go apprehend the other one.
On reaching the home, there was another misunderstanding between the police officers and the deceased who appeared to have shielded the other woman.
Eye witnesses claimed the deceased was chased and hit with the barrel of the gun a number of times before he was arrested and sent to the police station.
He collapsed at the cell and died on arrival at the hospital the following morning.
ASP Tanko Ibrahim, Police Public Relations Officer for the Ashanti Region said justice will be done after investigations have been concluded.
"What we were told was that on the 18th a lady came to the Sofoline Police Station and lodged a complaint that another lady had threatened her with harm.
"The following day she came back to say that the lady who she reported to the police and some others came to the house and attacked her."
"That necessitated the sofoline police to send two police men to effect the arrest of the lady and the guys who assisted her to assault the complainant.
According to him, in the process of arresting the suspects the deceased came in, saying he will not allow the police to arrest the suspects.
That resulted in a scuffle, with the deceased slapping one of the police men, he explained.
He said the police managed to take him to the police to detain him.
"In mates saw Kwabena lying on the floor and quickly drew the attention of the officers on duty".
"He was rushed to the hospital but was pronounced dead on arrive," Tanko narrated.
He said the two police men involved in the matter have denied assaulting the deceased.
Investigations have begun.