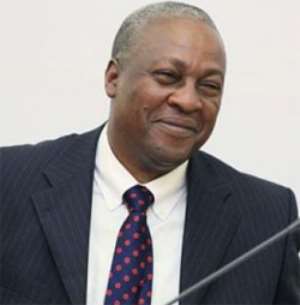 President John Dramani Mahama will on Wednesday September 05, 2012 visit neighbouring countries, Cote D'Ivoire and Burkina Faso, to thank the Heads of State and people of the two countries for their support during the funeral of the late President, Professor John Evans Atta Mills.
He will also express the appreciation of government and the widow of President Atta Mills to the two Presidents for personally attending the funeral service for the late president.
A statement issued from the Presidency and signed by Spokesperson, John Abdulai Jinapor, said President Mahama and his delegation which includes the Chief of Staff John Henry Martey Newman "will also visit the Republic of Togo, Benin and the Federal Republic of Nigeria between September 06 and 07 2012.
Mr. Jinapor noted that the President will also take the opportunity to hold bilateral discussions on areas of mutual interest and cooperation with the leaders of the five West African states.
Vice President Kwesi Bekoe Amissah-Arthur, shall, in accordance with article 60(8) of the constitution act as President during the period that President Mahama will be away.
JOHN ABDULAI JINAPOR
SPOKESPERSON TO THE PRESIDENT
September 04, 2012