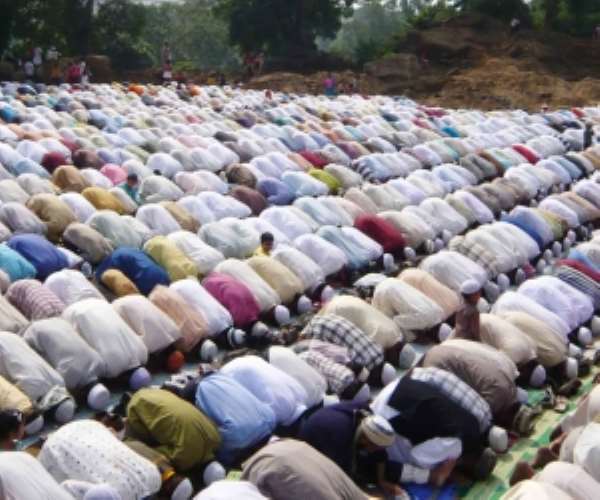 Tamale, Aug 20, GNA - Muslims on Monday gathered at Ambariya Sunni Community Park in the Tamale Metropolis to give thanks and praise to Allah for seeing them through the fasting and prayer in the month of Ramadan.
Eid-Ul Fitr is a Muslim festivity marking the end of Ramadan, the Islamic holy month of fasting. Eid is an Arabic word meaning "festivity," while Fitr means "charity".
The celebration of day concludes the twenty nine or thirty-day dawn-to-sunset fasting during the entire month of Ramadan.
Sheikh Sa-eed Abubakr Zakaria, leader of the Ambariya Sunni Community delivering a sermon, urged the congregation to always remain truthful to Allah.
"We can only get a space in paradise if we stand for the truth which is the light guiding our journey on earth", he said.
Sheikh Zakaria said unity and tolerance were important elements needed to bridge the wide development gap between the north and south.
"Government may devote all the resources towards enhancing the livelihood of the people by way of development but without oneness, all these commitments will be in vain. I therefore call on all and sundry to tolerate each other's view as the first step towards promoting peace", he said.
Sheikh Zakaria called on the people of the North to restore the state of unity, stability, law and order, harmony and respect for elders they enjoyed some years back.
He later prayed for divine guidance for the government, security agencies as well as peaceful election for the nation come December.
Moses Bukari Mabengba, Northern Regional Minister, appealed to Muslim leaders to use their privileged positions to inspire their followers to be hard working.
Mr Asabigi appealed to Muslim leaders to preach peace at all times and exercise control over the youth who are often used by politicians to cause mayhem.
"Let us see ourselves as brothers and sisters belonging to different political parties and therefore no need to harm each other," he said.
He called for unity and understanding among the Muslim community in order to bring about development and social cohesion, adding that "unity is a cardinal tool which can champion the cause of the Muslim world."
GNA