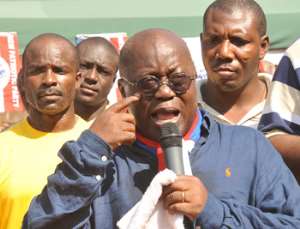 The flagbearer of the opposition New Patriotic Party (NPP), Nana Addo Dankwa Akufo-Addo, began the second phase of his much-touted 'hope restoration' tour on Thursday with a passionate appeal to Ghanaians to help save the country from further deterioration.
This was when he toured a number of areas in the Ayawaso Central Constituency to campaign for votes in the upcoming December 7 elections.
The NPP leader was given a rousing welcome in all the areas he touched.
His first port of call was a house adjacent to the Bolgatanga House near Mallam Atta Market where he met and interacted with a group of porters (kaya yei).
He then left for the Mallam Atta Market where he was mobbed by the market women and opinion leaders and then proceeded to meet a group of shoe shine boys around the Asantewaa Hotel area in New Town.
The tour ended with a mini rally at the Tip-Toe lane near Odo Rice Restaurant at Kokomlemle.
The second day of the tour yesterday saw him visiting places such as the Kaneshie station at the Kwame Nkrumah Circle, the Neoplan station and the articulator station where he met and interacted with drivers and passengers.
He proceeded to Avenor central mosque area; from there to the Kaneshie market where he interacted with traders and market women and eventually ended up at Kokompe where he also met and interacted with spare parts dealers.
Everywhere they went, Nana Addo and his team, which included former Greater Accra regional minister and Member of Parliament for Ayawaso Central Sheik Ibrahim Cudjoe Quaye, former Mayor of Accra Stanley Nii Adjiri Blankson, NPP Campaign Director Lord Commey, the party's Parliamentary Candidates for Ayawaso Central and Okaikoi South constituencies, Henry Quartey and Ahmed Arthur respectively, were mobbed.
Addressing the crowd, the NPP flagbearer decried the continuous depreciation of the cedi against all its major trading currencies including the United States dollar, the British pound sterling and the Euro, saying, 'The NDC has destroyed Ghana's economy and that is what has made things tough for Ghanaians.'
Under the NDC, he said, Ghanaians had virtually become paupers.
Nana Addo indicated his preparedness to restore the country to normalcy if voted for.
'If there is any group of people which has a good plan and vision to propel this nation when power is handed to make ends meet, then it's none than those of us in the New Patriotic Party.'
That, he said, was because the NPP was endowed with people with rich experience and leadership qualities that would steer the affairs of the nation far better than their colleagues in the ruling National Democratic Congress (NDC).
'I know some of you say everybody comes and makes promises to do this and that so vote for me to go to the Castle, but I give you my word that I would never turn my back on you because I didn't not come into politics to amass wealth… but to use the knowledge and understanding that God gave me to help push the country forward,' he stated.
He expressed his commitment to help develop the private sector.
Advertisement
He reiterated his promise to make education free from primary to the senior high school level whilst indicating his preparedness to improve technical and vocational education.
'When I say we will provide free education, they call me a braggart and claim there is no money to fund such an initiative but what I want to tell them is that those huge sums being used to pay Woyome and several judgment debts alone can take care of our children's education so I don't agree with them,' he said.
'We are going to use part of the oil proceeds to educate our children for them to learn and move forward.'
The NPP flagbearer also talked of poor handling of the National Insurance Scheme (NHIS) by the ruling NDC administration, indicating his readiness to make it more vibrant.
According to him, the NHIS, which was introduced by the previous Kufuor-led NPP administration, of which he was a member, was gradually collapsing, with people not being able to access basic healthcare, as was the case some four years ago.
By Charles Takyi-Boadu