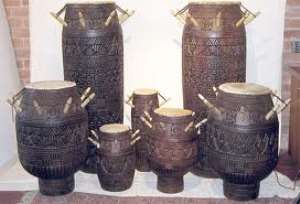 Accra, Aug 08, GNA – Various traditional drumming and dancing groups added colour to the funeral celebration of the late President John Evans Atta Mills at the forecourt of the State House in Accra.
There were traditional dancers from the Northern parts of Ghana depicting the rich African culture but the three Kete groups from the Central Region stole the show with their skilful steps and movements to the admiration of the invited guests and the Diplomatic Community.
Members of the public who could not resist the rhythms from the drums joined the dancers to exhibit their skills.
The excellent performance of the dancers seemed to calm nerves of the public who were waiting patiently in the queue for their turn to file past the mortal remains of the late President Mills.
The general atmosphere was peaceful and many in the queue were seen assisting the security personnel to ensure that everyone followed laid down procedures.
Some of them told the Ghana News Agency (GNA) that they would wait until they get the chance to pay their last respects.
They said the late President Mills was a true hero of Africa who came into politics with the intention to continue the good works of Osagyefo Dr Kwame Nkrumah and not to acquire wealth.
"It is unfortunate that he did not live long to prove his critiques wrong. But still did a lot within the short period that he served as the President of Ghana," they said.
Mr Daniel Apasu, a teacher at Anfoega Senior High School, told the GNA that he came from Ho in the Volta Region to pay his last respects to the mortal remains of the late President Mills.
"I will spend the night with a friend although I planned to leave tomorrow I will stay on till Friday when our beloved late President Mills will be laid to rest," he said.
The Banquet Hall would be closed to public viewing exactly 1900 hours to pave way for the vigil from 1900 hours to midnight.
It is expected to be a night of music and culture drumming and dancing.
GNA