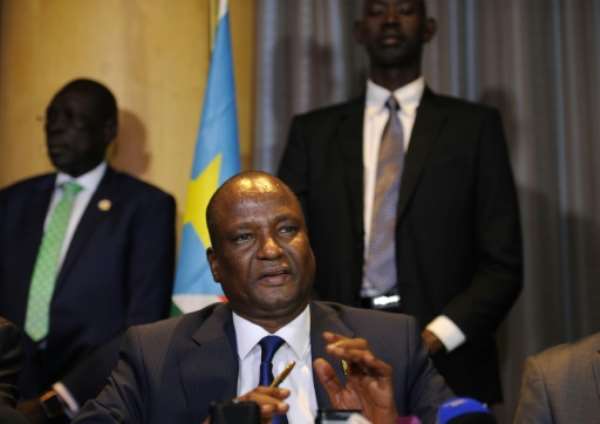 Newly appointed South Sudan First Vice President, Taban Deng Gai (centre) speaks during a press conference in the Kenyan capital, Nairobi on August 17, 2016. By Tony Karumba (AFP/File)
Khartoum (AFP) - South Sudan's new Vice President Taban Deng Gai will begin a two-day visit to Khartoum on Sunday for talks on thorny issues still outstanding from its 2011 secession, an official said.
Deng's first visit to Sudan comes just weeks after he replaced former rebel leader Riek Machar as South Sudan's new vice president after clashes in Juba left hundreds dead in July.
"He will arrive tomorrow... accompanied by a delegation of ministers and advisers," Mayan Dout, South Sudan's ambassador to Khartoum, told AFP on Saturday.
He said Deng will discuss issues that have been outstanding since the south's independence from Khartoum in 2011.
Since then a raft of issues between the two countries have been unresolved, including the status of the Khartoum-occupied border district of Abyei, which had been supposed to hold a plebiscite on its future, and the payments Juba should make for the use of an oil export pipeline through Sudan.
South Sudan's oil production has virtually ground to a halt after a civil war erupted there in December 2013, when President Salva Kiir accused Machar of plotting a coup.
Machar was later dismissed and his whereabouts unclear following a new flare-up in fighting in July.
On Thursday an aide to the ex-vice president said Mashar had escaped to the capital of Democratic Republic of Congo.
Khartoum is hoping that an improvement in relations with Juba would help resolve persistent rebellions on both sides of the border that have sparked a prolonged war of words between the two governments.
Deng is expected to be accompanied to Khartoum by South Sudan's defence and energy ministers as well as senior intelligence officials.