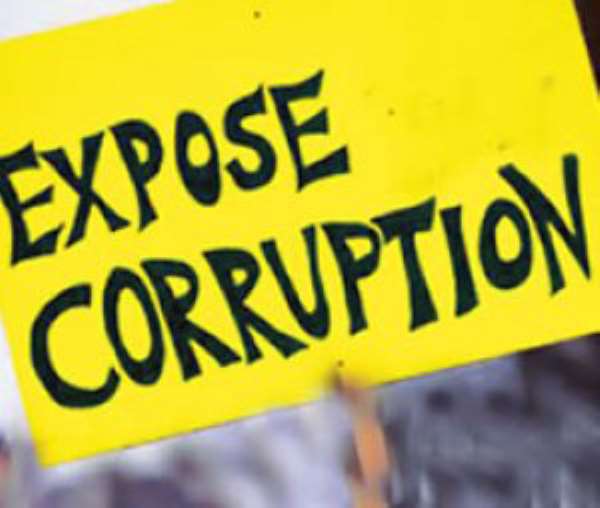 Corruption
Take heart, my compatriots. Take heart in these trying times of ministerial daylight robbery of the motherland's money. They are thieving by something we had never known before until a certain professor and a herd of plunderers took over the motherland; something called judgment debts.
To the motherland's rescue are two of her sons. Both are of the learned confraternity. One sits on the bench and the other defends the law; an attorney who, even if he used to be a general of attorney but is no longer one, is, indeed, a general in his own right and by deed.
When some thieves thought they could rob the motherland by arranging payment from the consolidated fund of a whopping sum of GH¢14 million, the patriotic duty conscious and ethical justice said no. No; because he could see only one-fourteenth or GH¢1 million of that claim by the evidence the motherland's lawyer himself had placed before him, the justice of prude.
That justice couldn't be the only one. If he is the only one, the motherland is doomed and maybe the congress chairman will be justified in proposing many ways to cat them out.
It is crystal clear, however, that it is not the justice system that needs cleaning but rather an executive of thieves which needs house cleaning. These were the thieves who supported, openly or secretly, the house cleaning rampage in 1979 and 1982, executing my compatriots' fathers, sons, brothers, uncles and grandpas.
They are the former student leaders who went accusing public officials of theft without evidence. Now it all appears like they went accusing others what they were hoping to do; steal elections so that they can go plundering the motherland's coffers.
And one man anti-thievery crusader Martin Amidu; oh let all our ancestors bless him, the attorney who is a general in his own right because he is at the anti-corruption war front soldiering on. If you heard one of his many horrid corruption stories, a certain Okudzeto Ablakwa, a very little minister by all standards, dared call to instruct the attorney-general of the motherland, to settle judgment debt of his paymasters.
Sometimes some of us of the traditional authority wish these thievery cases were before us. Because then we would be able to ask all those congress officials defending frivolous judgment debt payments to invoke Antoa Nyamaa, Krachi Denteh, or some other deity to swear they never took one pesewa for defending the stinking payments.
The question keeps popping up as to whether the motherland has anyone in charge of her affairs at all. There is no motherland in this world, in this our whole wide world, where such pillaging of meager public finances would not attract a single comment from the one in charge; unless there is none in charge or a semblance of someone in charge when he isn't actually in charge.
No leader anywhere on our globe dares show such disdain and contempt for the citizenry and would be able to go to sleep content that he or she is leading a nation. Integrity, where are you? You are certainly far, far away from our dear motherland.
I hear out-of-the-motherland Isofoton of the land of the armada is defending a son of the motherland for betraying the motherland. This is no show. No imperialist can come and steal money from the motherland and turn round to defend a son of the motherland for having aided and abetted the stealth.
Any son of the motherland who implicates himself in the siphoning of the motherland's money cannot be defended. Defence is mounted on behalf of sons and daughters of the motherland who may have erred in their defence of the finances of the motherland and not those who aid in cheating her.
My compatriots now know why the NHIS has collapsed. They know why the road system is paralyzing all activities worthy of supporting the economy. My compatriots know why the motherland's currency is bleeding profusely and continuously losing value.
A friend told me today he cannot wait for God to deliver the motherland from thieves called ministers and whatever on December 7. My response to him is that as a traditional man, I feel the motherland is cursed for such evil bunch of brigands to have managed to steal their way to taking charge of her affairs.
Soldier on courageous Amidu; soldier on patriotic justices who are our last hope. I have always stood in your defence and I always will continue to do just that. Forget about those who seek many ways of killing a cat to visit martyrdom on you. They will fail and get exposed as the greedy bastards whose appetite for corruption will never ever be rivaled in the history of the motherland.
By Kwasi Ansu-Kyeremeh