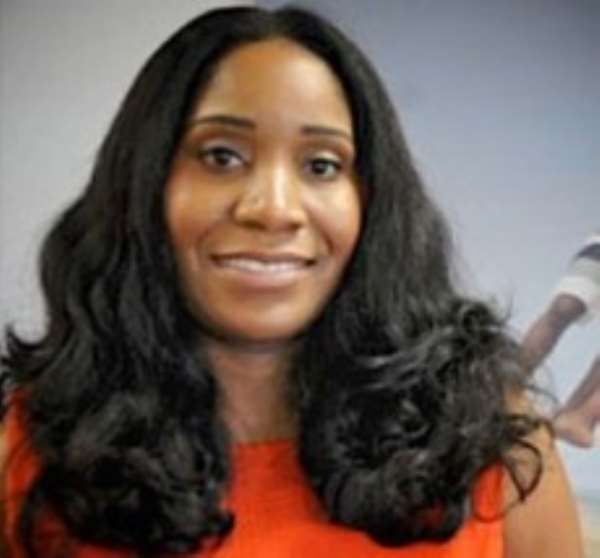 Uche Ofodile, Vodafone Ghana CMO
Chief Marketing Officer of Vodafone Ghana, Uche Ofodile says even though the company's standard tariff of 14.4Gp per minute of local calls is one of the highest on the market, 95% of customers are on more affordable, rewarding and relevant tariff plans the company offers.
"Just about five per cent of our customers are still on the standard tariff of 14.4Gp and we have been encouraging them through regular calls and text messages to move to any of our affordable value offerings but some seem very comfortable with the standard tariff," she told Adom News in an exclusive interview.
The telecom tariff table on the website of the National Communication Authority indicates as at June 2012, Expresso had the highest off-net (calls to other local networks) standard local tariff of 14.94Gp per minute, and Vodafone is next with 14.4Gp per minute, followed by MTN with 13Gp, then Tigo 10.2Gp (even though it claims 8.4Gp), and Airtel with 8.4Gp.
But for on-net calls, Vodafone leads the pack with 14.4Gp per minute, Expresso follows with 9.54Gp, then MTN with 9Gp, Airtel with 8.4Gp, then Tigo beats the market with its unprecedented and unmatched 3Gp per minute default on-net tariff.
Uche Ofodile admitted that 14.4Gp per minute for both on-net and off-net is not competitive, adding that it was on that basis that Vodafone introduced the various tariff plans, which she called value offerings, intended to give every segment of customers what is relevant for their lifestyles.
She said the company has eight value offerings comprising Double Value, Supreme Value, Supreme Lite, Extra Value, Double Value Daily, All in One Bundles and 138, in which customers could find effective tariffs of between 1gp per minute to 8.4gp.
The eighth one is the Double Bonus, which is a welcome package and lasts for three months for every new customer.
So the highest effective tariff one could pay by being on any of Vodafone's value offerings is 8.4Gp per minute or less, depending on which value offering one chooses.
But the communication on those value offerings does not seem to sit well with a few customers of Vodafone, who, Uche Ofodile said, are bent on maintaining their standard tariff of 14.4Gp per minute, in spite of efforts by Vodafone to get them to move to something more rewarding and affordable.
"Some of our value offerings are unmatched on the market and we wish all our customers would be on any of those packages but we are also firm believers in not forcing people to do what they do not want to do," The Vodafone Ghana CMO said.
She noted that for now the standard 14.4Gp on-net and off-net tariff would remain, but the company would consider the possibility of scrapping it completely as and when it feels necessary.
Meanwhile, Uche Ofodile said Vodafone, across the globe, is about empowering people, as its tagline says "Power to You", and so it has been seeking, on regular basis to empower all customers with the tools to do more with their resources, and get more value for their money.
"We have shown in many ways that we mean it when we say we are empowering people to get more from life – whether through our propositions, value offerings, Corporate Social Responsibility and our branding s activities such as ICONS and Ghana Music Awards, we have empowered people to live the Vodafone brand," she said.
She gave an assurance that Vodafone would continue to invest in products, services, activities and innovative ideas which are relevant to its customers in Ghana, and which also make business sense.
Uche recently led the Vodafone marketing team to pick up the Marketing Campaign of the Year Award for its Mobile Number Portability (MNP), 'join the train' campaign, and she said that was a privilege but also the reward for 18 months of hard work.

Story by Ghana/Samuel Nii Narku Dowuona/Adom News