Undermining our Specialist & misplaced priorities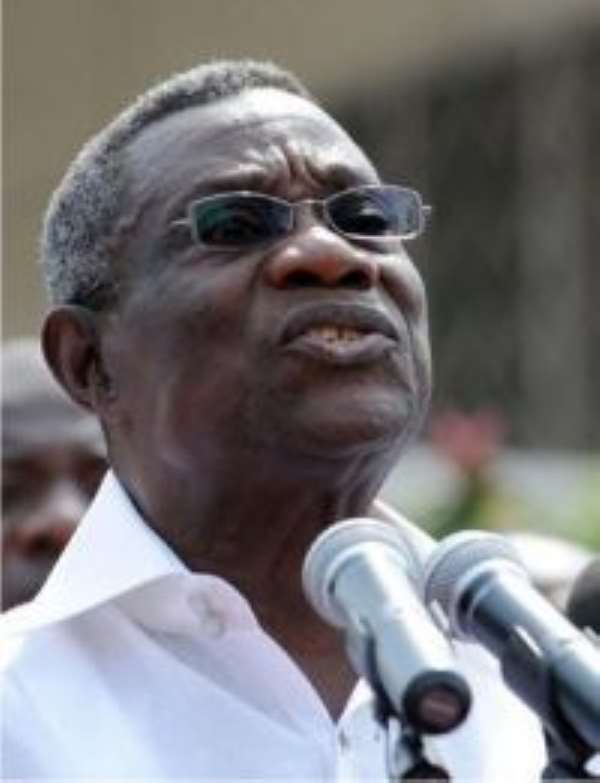 Every political or high office of the land goes with responsibility ,priviledges and benefits . So I do not have any problem with parliamentarians, ministers of state, appointees among others living in government flats ,riding in four wheel drive with personal drivers, misusing governments funds for all the wrong reasons and travelling abroad with their per diem as many times as there is the opportunity.
The President of Ghana John Atta-Mills is no exception to these priviledges and benefits because he deserve them just by virtue of his position
This past week, the president Atta- Mills flew out of the country for a few days medical check up .As bad as it sounds ,my main concern is, with all the specialist , surgeons and Oncologist who have undergone advance training in health care why in the world should the president travel at the expense of the tax payer with some of his staff and security for just that reason. Equally guilty, is many other African leaders whose priorities are misplaced when it comes to health care. This further undermines the intelligence, confidence, credibility and integrity of the medical doctors, specialist and the surgeons in Ghana ,this is a great disservice to mother Ghana.
Even though health care is accesible to everyone in the United States, its not affordable to everyone ,its very expensive to the extent that some citizens refuse to go for basic preventive treatment because of cost, but when you are using the states funds there is absolutely nothing wrong. Patients getting treatment for dialysis for end stage renal disease and radiation or chemotherapy for carcinoma or cancer are assisted by the government because of the cost.
President Atta-Mills I expected you to use diplomatic language instead of undermining the integrity and intelligence of the many specialist in Ghana by telling them you are flying out for a medical check up. I totally disagree that Ghanaian doctors are incapable of treating the president and for that matter that matter Ghanaians as a whole, rather he should upgrade our absolete equipment ,set new priorities to build new health centers to take care of needs like cancer treatment and encourage our doctors to perform. Professor Kwabena Frimpong is a living example of how with encouragement the skies will be the limit, he brought great relief and hope to millions who had cardiac related problems and recently when members of the Ghana Medical Association were negotiating to be placed under the Single Spine Salary which had benefitted the Ghana Police Service among others . From the deputy minister of health Rojo Mettle-Nunoo, parliamentarians, to uneducated and unintelligent serial callers turn into opinion leaders took these poor doctors to the cleaners for just asking what they were due. Not too long after surgeons at Komfo Anokye also went on strike because they did not have basic tools and materials to enhance their efficiency. Yet these same irresponsible and foul mouth serial callers nailed them because of their low level of intelligence until the health minister intervene to solve the situation.
President Mills I will encourage you to channel some of the oil money to upgrade,modernise and equip the various hospitals to be in a better position to provide equally quality service such as cancer treatment centers that many African leaders travel abroad to seek. I feel very embarassed when with broad smile when leaders, tell their countrymen and women that they were going to seek medical treatment outside. Last year I accompanied a Ghanaian friend for basic eye examination and treatment to the opthamologist( NOT A SPECIALIST). I asked him if such basic services could not be rendered in Ghana, his reply was there are many specialist who have the expertise but facilities to work with hence many of them who can afford it travel to treat themselves here and those who cannot afford it go blind .So I took it upon myself to ask Dr Flemming, one of the many opthamologists, how much does she think one of the many eyes examination equipment would cost, she smile and asked why. Then she said maybe less than $10,000 a piece ,I was shocked because I could imagine how much of the controversial judgement cost paid to Alfred Woyome and Construction Pioneers could have put up a whole new office complex with modern equipment to house the new eye clinic or Oncology department for the treatment of cancer.
Doctors all over the world receive the same basic training and credit hours to enable them qualify for the proramme and graduate out of the medical schools but what makes the difference is the countries from where they work and the equipment, situation and circumstances under which they operate. Ghanaian medical doctors who were trained in Ghana but have brain drained to the US are performing very well because of the modern equipments at their disposal. I know a cardiologist and a colonologist in Massachusette and Ohio who are both Ghanaians whom I knew from High School are doing wonders because equipment and technology is accessible to them, but this does not imply they are better than their Ghanaian counterparts. Their Ghanaian counterparts work under very difficult environment ,situation and circumstances
In the late 1980s Daily Graphic launched an appeal for funds for a seven year old boy Kwabena Kankam who was diagnosed with a hole in heart and needed the money to travell to Holland for treatment for a basic procedure.When Professor Frimpong- Boateng set up the cardio center at Korle Bu Teaching Hospital,it treated all cardiac related diagnosis which hitherto many travel abroad to have it done . The reputation of Ghana in the sub region was immeasurable. The basis of my argument is that Ghana has all the manpower and the resources to make prudent choices to reach the heights others have attained in the health sector but our priorities are completely misplaced and that is the reason most African leaders travel all over the US seeking treatment.
The Oncologist, President Atta Mills is going to see in the US is no better than those we have in Ghana , the only difference is they have modern equipments and visits of this nature turns to undermine the integrity of our specialist and surgeons. Giving the same facilities and situation I believe the Ghanaian health care professionals will do better than their counterparts in the US. In the United States no one travels to state to any of the remaining 49 states to seek medical treatment. The worst is those of us who live in Columbus and its environs travel two hours within the same state to Cleveland for cardiac related problems. How many times have we heard of leaders from any part of Europe, US among others going elsewhere for medical treatment. They have developed their health care system that it takes care of all their needs and that of their citizens.
When US President Obama visited Ghana he urged President Atta-Mills to strengthen our institutions but many did not understood him.
Ghanaians both home and abroad are appealing to Atta -Mills to develop health care sector by upgrading them into internatonal standards so that our leaders will refrain from travelling abroad to seek treatment which could have been done at home with better planning which give meaning to the lifestyle changes in Ghana. and stop undermining the intelligence of our health care specialist