Fitch downgrades Egypt over political uncertainties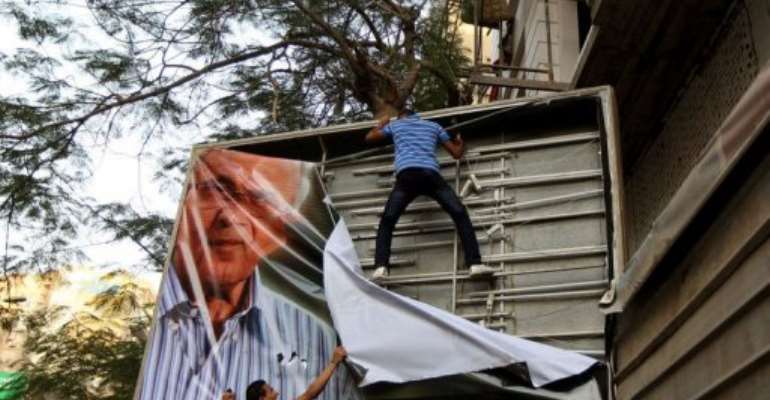 CAIRO (AFP) - Fitch Ratings said it had downgraded Egypt's long-term foreign currency rating from BB- to B+ with a negative outlook because of increasing uncertainties over the political future of the country.
It also downgraded the long-term local currency rating from BB to B+, also with a negative outlook, while affirming the short-term foreign currency rating at B.
The downgrade and negative outlooks "reflect increased uncertainties surrounding the political transition following (Thursday's) ruling by the Supreme Constitutional Court to annul parliamentary elections and dissolve parliament," a statement said.
Whatever the outcome, "the political and policy-making process has been complicated, delaying the likely implementation of the comprehensive macroeconomic and structural reforms needed to kick start recovery and ease financing strains" said Richard Fox, head of Middle East and Africa sovereigns at Fitch.
On Thursday, Egypt's transition to democracy was thrown into further disarray after its top court ordered parliament dissolved and allowed a disputed candidate to remain in a divisive presidential runoff due to take place Saturday and Sunday.
Activists and political figures described the rulings as the final phase of a military coup that takes the transition back following the ouster last year of president Hosni Mubarak back to square one.
Fitch said that, before the latest events, "the economic situation had shown some signs of easing with, in particular, international reserves rising slightly in April and May after several months of sharp decline.
"However, the need to re-run parliamentary elections will, at the very least, delay the emergence of a workable and inclusive governance structure. Popular reaction to the dissolving of parliament remains unclear at this stage.
"Although the incumbent, military-appointed government will remain in position for the time being, it will need to come to a working arrangement with whatever president emerges from this weekend's elections.
"This will add a further element to Egypt's already complex political equation. Meanwhile, the re-writing of the constitution will be further delayed with the result that the new president's powers will be unclear and the longevity of any new parliament uncertain."
It said the ratings "will remain under downward pressure until political uncertainties begin to resolve, a functioning governance structure begins to take hold and an economic adjustment programme is put into place.
"A sustained outbreak of political violence or other political setbacks that make the transition to political stability longer, more uncertain or ultimately less likely to succeed would lead to a downgrade."
It added that a downgrade could also occur if there were evidence that the prolonged political uncertainty was exerting a greater cost on the economy.
"By contrast, the emergence of a stable governing structure, which could focus on key economic and structural policy decisions, including progress toward an IMF agreement, would help to stabilise the rating."