I call it 'the Ghanaian Dream'; what the average citizen of Ghana aspires for. The imagery associated with this article was an attempt to define a concrete measurable objective or criteria within which the performance of the politician could be measured, not only that but also a clear target that the political leader must aspire to meet; a milestone, a yardstick.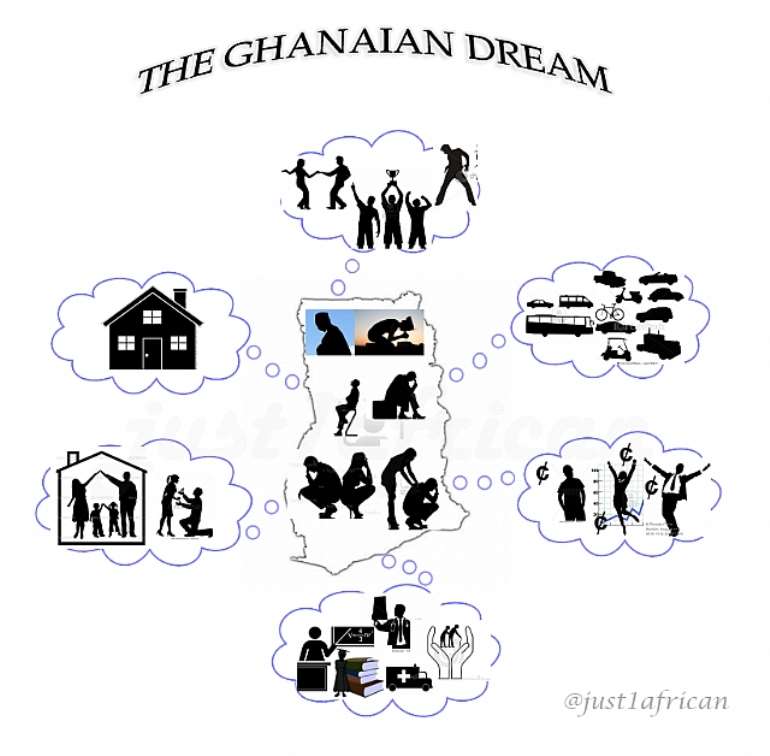 The premise for this is my observation that people cannot really objectively see or measure the performance of the political leader unless there is a measurable target which they (the politician) must attain at every point in time. This target must be clear within the minds of the citizen and must be seen to be generally agreed upon by the majority of citizens. Call it a national policy frame work but not quite that, just an ordinary summary of the most common aspirations of individual citizens, such as accommodation, transport, job, leisure, childcare and health care
These aspirations are meaningless unless they have been quantified. For instance, we can say the majority of citizens of age 30 (or a range) should be in the position to access (/afford) the following:
1. A two-bedroom self contained home (either through renting or building or purchase – better if the nation designed a mode of acquisition)
2. Should have easy access to transport of a certain form to and from work at least (including buses, trains, private car, bicycle etc – best if the nation has a holistic transport strategy/system)
3. Should be capable of catering for a partner and one child on their income (or two in the case of two working adults) including feeding, clothing and education
4. Ability to save x percent of their income every month while doing the above successfully
This kind of clearly defined objective, even if loosely agreed on, creates a clear and measurable target for the leader and a criterion by which the people can evaluate the performance of the leader. Interestingly, it also creates an expectation of the citizens that they also would attempt to operate with the confines of the collective aspiration or standard (e.g. have one child, send the child to school, save) outside of which they cannot blame the government or system for their difficulties.
These criteria may be reviewed over time as the system improves. It is not an enforced rule but a collective target/vision/aspiration devoid of all the complexities of economic indicators that the layman is both oblivious and indifferent to.
What do you think?
Matthew Anorkplim Loh
@JUST1AFRICAN
[email protected]