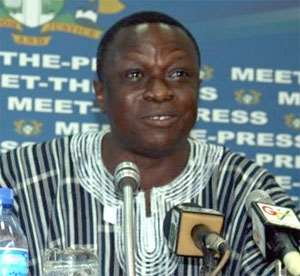 The Minister for Chieftaincy and Culture , Alexander Asum Ahensah, has expressed optimism that construction works on the Arts Center building in Sunyani, the Brong Ahafo regional capital, will be completed before the National Festival of Arts and Culture (NAFAC) begins in August, 2012.
He said the ministry had caused the Architectural Engineering Services Limited to review the project cost which had been estimated at GH¢1, 455, 484, 80 to ensure and facilitate the early completion of the project.
Mr. Asum Ahensa made this known when answering a question in Parliament posed by Member of Parliament (MP) for Sunyani West, Ignatius Baffour Awuah, on what the ministry was doing to complete the Arts Center building to prepare the place for NAFAC 2012.
'I am very optimistic that the contractor would be able to move back to site soon and possibly complete the project before NAFAC 2012 begins,' he said.
Mr. Asum Ahensa noted that the amount involved to complete the project had been submitted to the Ministry of Finance and Economic Planning for the release of funds.
Advertisement
According to the minister, he had a meeting with the Minister of Finance and Economic Planning, Dr. Kwabena Duffour and the Director of Budget on the urgent need for the early release of funds to complete the project.
He added that details of the cost were submitted to the Director of Budget for processing.
Mr. Asum Ahensa said the outstanding works to complete the regional theater included casting of terrazzo floor, fixing of glazed doors and windows, construction of gallery stage, electrical installations, stage curtains and surface water drainage.
Touching on the background of the project, he said it was awarded to State Construction Corporation in 1963, of which an amount of ¢42,354,277.61 was spent on the project as at 1988.
He said the project was then terminated due to some technical reasons and was re-awarded to Messrs J. Adom Construction in 1999, with the objective of creating an edifice for the promotion and development of the creative industry in the Brong Ahafo Region.
By Cephas Larbi