Vice president advises breast cancer patients to avoid herbal treatment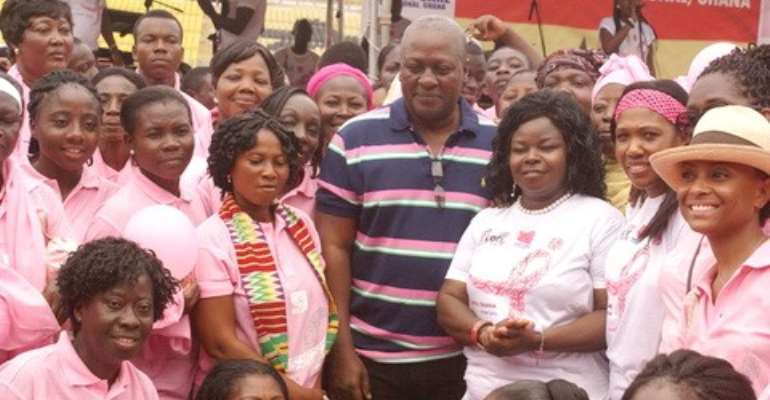 Vice President John Mahama has observed that most women who die from breast cancer often report their condition to the hospital when the situation has become very acute.
He blamed this on the tendency of such victims to resort to herbal and spiritual treatment instead of seeking orthodox care.
Mr. Mahama warns Ghana risks more death from breast cancer if such attitude to the disease persists.
Addressing thousands of people after a breast cancer awareness walk in Kumasi, the Vice President said government will support any initiative that aims at finding a cure for breast cancer.
The Susan Komen Race for Cure is organized annually to draw attention to breast cancer.
The komen race for the cure series raises significant funds and awareness of the fight against breast cancer, celebrates breast cancer survivorship and honours those who have lost the battle with the disease.
Put together by the breast care international, the single biggest organization in the fight against breast cancer in Ghana, and the susan G. Komen race for the cure in the united states.
It is aimed at educating women on the dangers of the disease which is said to kill one woman in every 69 seconds the world over.

The race which started from the the Baba Yara Sports Stadium and passed through some principal streets of Kumasi and ended at the same venue attracted some Ministers of State, women groups and schools.
The vice President calls for regular breast examination for early detection and cure of the disease. He said government is determined to attack the breast cancer disease on all fronts.
He was delighted at the initiatives of breast care international in the fight against breast cancer, and said the expectations were that the work of the organization would continue to bear fruits in every corner of the country.
He pointed out that, the health of the people was crucial in building a sound nation, consequently, issues bordering on fighting breast cancer must be taken seriously by all the people.
Available statistics indicate that 456 thousand women die from the disease globally each year.
In Ghana, over 2000 women were diagnosed with the disease last year.
President of Breast Care International, local organizers of the event, Dr. Beatrice Wiafe Addae, appealed for the inclusion of breast cancer screening to the list of diseases under the health insurance scheme.
Story by Ghana /Elton Jon Brobbey/Luv FM