WESS forum advises students on taking their chances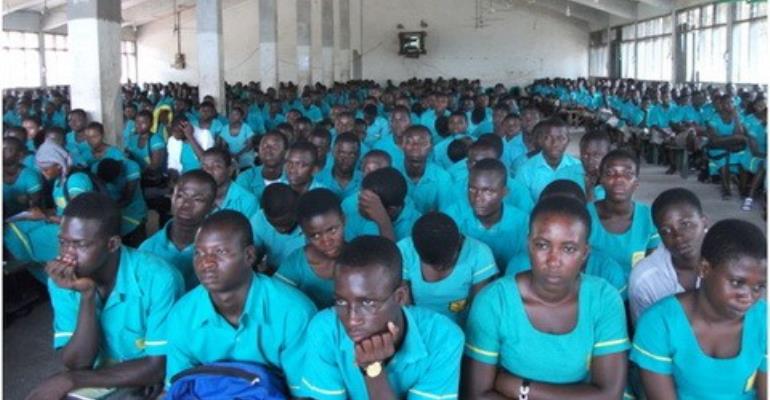 Since its establishment in October 1, 1963, Wenchi Methodist Senior High School (WESS) has made some unprecedented achievements in the Brong Ahafo and the nation at large. The school is the first integrated school (where the visually impaired students and the sighted ones share facilities in common). It is also the first SHS in the region to offer music as a subject; and to establish a computer laboratory for training of students in ICT. Again, WESS is the first SHS to have established a school-based cadet corps in the region and the only school to produce a school newspaper in Ghana.
However, these qualities have not reflected much in the academic performances of the students since the school was established jointly by the Traditional council and the Methodist church.
In order to sensitize the students of WESS to make maximum use of facilities available in the school to their own advantages, the Wenchi Municipal NASPA has organized a forum dubbed "Achieving higher heights during and after SHS" for the students.
Mr. Obed Ofori Bangdome, the regional NASPA President said: "It is time for us all to offer these guys the opportunities we didn't have way back in SHS. There are students who do not know that the courses they are studying are incongruous to their future careers. We do not intend to demean any course or programme but we wish to bring to the light the programmes they can read at tertiary based on their current course of study".
Rev. Dr. Joe Eyison, the Kintampo Municipal Dentist, tutor and head of Community Oral Health Officer (COHO) and Registered Dental Surgery Assistant (RDSA) at College of Health – Kintampo, told the students not to allow the economic status of their parents deter them from pursuing their goals in life.
He said: "When I was at your stage I was practicing 'wash and wear' because I had only one trouser and one shirt. But I did not allow that to change my mind from becoming a dentist."
The Wenchi Branch Manager of National Investment Bank, Mr. William Ohene-Adu advised the students to stay away from drug abuse. He stated that: "There is no positive relationship between drug usage and academic performance." He also pointed out that: "Academic excellence alone is not a guarantee for career success".
Dr. Benjamin Asubiojo (acting Medical Officer at Wenchi Methodist Hospital) said in his speech that even though he was good at science during JHS, he was forced to study a different course at SHS because he was taught that scientists did not believe in the existence of God. "Owing to this misconception I had Fs in my final exams since that particular course was not my field and later I had to go back to study science all over again".
He said this to alert those students who wish to change their courses. He admonished the seniors to desist from writing their nicknames on the school walls after completion as a way of getting recognition from their juniors.
Miss Mercedes Yeboah (National Service Personnel and graduate from KNUST) reechoed that she got admission to study science at SHS but later went to the headmistress of her school to ask for business option even before the end of the first term.
Mr. Hamza Swallah (Wenchi Branch Manager of Eden Financial Service) also advised the students to apply wisdom in all aspects of their life on campus.
Mr. John K. Simpson (Headmaster) thanked NASPA for the initiative and entreated the executives to organize more forums for the coming terms.
The SRC President, Ernest Boafo Mensah implored fellow students to put into practice what the speakers have shared with them.

Story by Wenchi Municipal NASPA/[email protected]