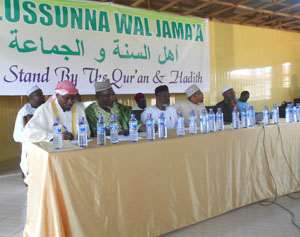 The General Secretary of Alhassunna Wal Jama'a, Sheik Yacoub Shuaib Abban, has called on heads of government assisted secondary schools to respect the religious rights of Muslim students.
He said even though Ghana was a secular state, some heads of public and government assisted secondary schools had refused to respect the religious rights of Muslims.
Speaking at a press conference on the theme 'Politics and Education', Sheik Abban said Muslim students were prevented from praying in some public schools and also discouraged from fasting during the month of Ramadan.
He said apart from forcing them to attend church services like morning devotion and Sunday church service, some school heads had made it an abomination for Muslim students to send copies of the Qur'an to school.
Sheik Abban said, 'These are clear violation of our Muslim children and grandchildren's religious rights. We have endured this humiliation for far too long and will henceforth not take such actions lightly.'
He said, 'We can be persuaded to let bygones be bygones but we are calling on government to ensure that the secular status of Ghana is duly respected in all public and government assisted schools.'
Sheik Abban said Muslim students' freedom to worship should not be compromised in such schools.
He said, 'In the last six years alone, the senior secondary system has undergone two changes; from a three-year system to a four-year system and from the four-year system back to the three-year system. It is our view that it is time for us to find a permanent solution to this nagging problem.'
Advertisement
Sheik Abban suggested that the NDC government should take a bold initiative to bring together a strong and credible non-partisan group of stakeholders in the education sector to draw a comprehensive national educational policy which could stand the test of time with a definite renewable date that could not be reversed by any political party so as to ensure stability in the system.
He called on the major stakeholders in the country's political dispensation to clearly reject intemperate language in the body politic which could lead to violence in the run-up to the December polls.
Sheik Abban said the country had suffered so much polarization and it would be very dangerous to carry it any further.
'Let us therefore collectively work for the common good of our country as one nation, one people with a common destiny,' he added.
 By Cephas Larbi