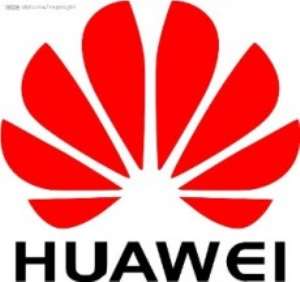 Huawei Ghana has said it would launch its own branded devices in Ghana by the middle of this year.
In a write up, copied exclusively to Adom News, the company said it was already providing devices such as modems, routers, tablets, fixed and cordless phones and mobile phones for all the telecom operators in Ghana.
"The aim of the company now is to launch our latest range of devices unto the Ghanaian market middle of this year," the company said.
Huawei, for instance, supplies 3G handsets such as Torres and Ideos specifically for Vodafone.
The company said it's slimmest and the fastest phone in the world would come to Ghana soon.
Huawei said it would continuously strive to achieve its goal of becoming the most influential device brand in the world and the preferred choice for Ghanaians, adding that it was steadily moving towards accomplishing its strategic goal of becoming the world's leading mobile phone brand within the next three years.
In 2005, Huawei Technologies (GH) S.A Ltd got registered in Ghana and has positioned itself as the strategic partner for the ICT development in Ghana. The company has established corporation with the government of Ghana through a US$150 million contract to install broadband infrastructure for government/state institutions in particular, and to bring fibre and for that matter broadband to homes.
In that regard, Huawei has already deployed mass high speed GPON (Gigabit Passive Optical Network) in Ghana, which enables fibre to the home, and had also brought Ghana's bandwidth and speed to Number one in West Africa.
It also has great business relationships with all the telecom operators, businesses and organizations as well as consumers, in the area of infrastructure supply and installations, as well as device supply.
Their total number of employees exceeds 350, with local employees accounting for 84%. Huawei also has over 110 technical engineers for on-site support service and project implementation.
In 2011, Huawei's local procurement was USD 45,360,000 an increase of 18% compared to 2010. The company has 43 local partners bringing employment to 3700 people in related industries. In 2011, Huawei paid taxes of approximately GHC 14,000,000 to the government of Ghana.
Huawei's business activities cut across all sectors in the ICT industry. In Ghana, they have provided ICT Solutions for the government of Ghana. They include an Integrated National Security Communication System Project and a Comprehensive e-government Platform Project. Huawei will also provide an ICT surveillance system for the gas plant to be built by government.
It is also cooperating with leading network operators on innovation to promote technical development in the industry, and in that regard, Huawei established the first Joint Innovation Center in Ghana with Vodafone for new application experiments and tests.
The company is also partnering with the top operators in the telecommunication industry for new sources of energy including solar, wind & hybrid energy base station implementation in Ghana. The purpose is to promote a greener world and industrial technical upgrading.
Huawei is also working closely with the operators in the research and experiment of new technologies in LTE for Ghana; it is also leading the commercial deployment of 3G wireless access network, and is also working on the implementation of a Unified New Application Deployment Platform.
Huawei said its focus is not just on business, but also has a vision to enrich lives through communication and this is reflected in both its commercial and corporate social responsibility (CSR) initiatives.
The company's 'Enriching Life through Communication' program is an international CSR commitment to empower positive changes; on the back of that program, the company has since 2009 made several contributions in Ghana, including the follow:
• Telepresence conference facility donated to the Government of Ghana to enhance communication between the seat of government and other state agencies.
• An annual Christmas donation to Korle-Bu Children's Ward.
• Renovation and donation of hospital equipment to Prampram Clinic. (Medical resources and equipment, an ambulance, a pick-up, air conditioners, a 150KVA generator and oxygen administration equipment)
• Donated an ICT laboratory to Kwame Nkrumah University of Science and Technology.
• Donated an ICT laboratory to University of Cape Coast.
• Donated to the National Security Council (Desktop computers, Moto rollers, body armor, laptops, colour printers, motor cycles, and walkie talkies).
• Huawei ICT training for Ghana Customs, Excise and Preventive Service.
• Sponsoring an annual Presidential encounter with well-behaved kids.
• Supporting the fight against cancer
Huawei Ghana said it would continue to support ICT development in the country and make its own contributions towards the growth of the economy.
Huawei is a leading global information and communications technology (ICT) solutions provider. Through dedication customer-centric innovation and strong partnerships, they have established end-to-end advantages in telecom networks, devices and cloud computing. Huawei's products and solutions are deployed in over 140 countries, supporting the communications needs of one-third of the world's population and serving 45 of the world's top 50 telecom operators. Huawei has over 140,000 employees with 150 nationalities worldwide, 72% recruited locally and 44% or 62,000 engaged in research and development (R&D).

Story by Ghana/Samuel Nii Narku Dowuona/Adom News