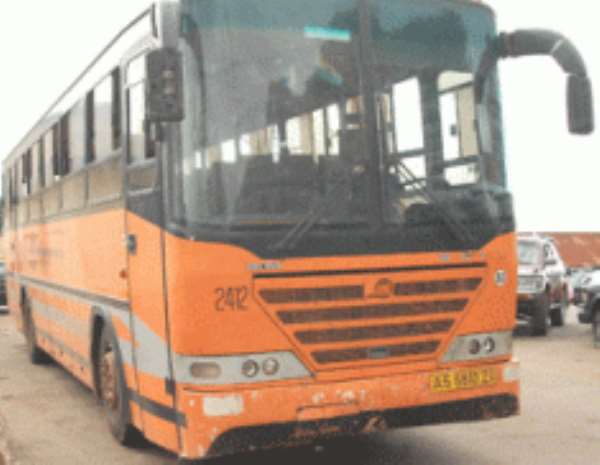 The metro bus from which the arms were siezed
The metro bus from which the arms were siezed The police in Kumasi have seized a number of shotguns, cartridges and knives which were allegedly being transported to Tamale in the Northern Region.
Fifteen people, some of whom were wearing amulets, have so far been arrested by the police to assist in their investigations, while an unspecified number of suspects are also being hunted for.
The suspects bolted when the police intercepted the Metro Mass Transit (MMT) bus that was carrying the weapons.
The identities of those arrested are being held by the police, but their caution statements have been taken.
Briefing graphic.com.gh on the arrest, an official of the Police Buffalo Unit in Kumasi said the MMT bus, with registration number AS 6810 Z, had been impounded pending investigations into the case.
According to the police, those who were arrested claimed they had hired the bus from Osino in the Eastern Region, where they had attended a funeral, to Tamale.
They further alleged that the seized weapons had been used at the funeral grounds at Osino in the Eastern Region and were only being transported back to Tamale.
The police stated that they found the picture of a 93-year–old deceased woman pasted on one of the guns.
However, that was not enough grounds to accept the story told by the suspects.
Acting upon a tip off, the police said, they dispatched men to the bus terminal where the 15 suspects were arrested, while the others escaped.
The suspects, on their arrest, claimed ownership of the weapons but explained that they had only used them at a funeral.
According to a source at the bus terminal, the bus had made a stopover at the Abrepo Terminal in Kumasi to refuel and while it was being refuelled, some attendants had attempted to offload some goods from the vehicle but they had encountered fierce resistance from some of the passengers.
After some struggle, the attendants managed to reach the cargo section of the bus, where they discovered the weapons, and immediately alerted the police.
The police said they were investigating the case with the view to getting to the bottom of the matter.
graphic.com.gh