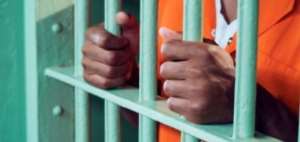 Kumasi, May 03, GNA - A Kumasi Circuit Court has sentenced a 24 year-old bicycle repairer to 40 years imprisonment in hard labour for robbing three students of the Kwame Nkrumah University of Science and Technology (KNUST).
Sadat Abdalla, who pleaded not guilty robbed the students of their laptop computers and other items valued at GH¢2,540.00.
His accomplice identified only as Toffick is on the run.
A State Attorney, Emmanuel Lawrence Kwadwo Otoo-Boison told the court presided over by Justice Emmanuel Amoh-Yartey that the complainants, Patrick Tettey, Benedict Gyau Adjei and Kuffour Owusu Ansah are all second-year students of the KNUST and are staying in a hostel at Ayeduase near the university campus.
He said on April 20, at about 0230hours, Abdalla and Toffick, armed with locally-manufactured pistols broke into the room of the victims, brutally beat them up, hitting one of them, Tettey with the butt of a pistol and opening a deep cut in the forehead.
He said they then made away with their three laptop computers, five cellular phones, pen drive, laptop bags and notepads amidst the firing of gunshots.
Mr Otoo-Boison said the injured student was rushed to the KNUST hospital for treatment and security personnel at the university's main entrance alerted.
He said moments later, a Nissan Urvan mini-bus carrying the robbers pulled up at the security checkpoint and students, who happened to be at the checkpoint, identified the robbers to the security personnel and they succeeded in arresting Abdalla whiles Toffick, however, resorted to firing warning shots and managed to slip through.
Mr Otoo-Boison said the bag, the three laptop computers and cellular phones were recovered and Abdalla was handed over to the police.
GNA