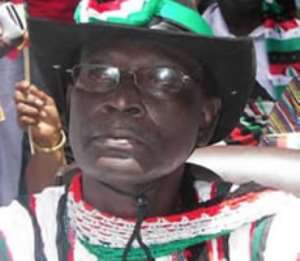 Chairman of the ruling National Democratic Congress has foiled a planned protest march by aggrieved contractors employed by the Ghana Education Service.
Kwabena Adjei is reported to have met the contractors who were heading to the Castle to present a petition to the president over unpaid arrears for work done.
The contractors claim they are owed well over 150 million cedis for work done and for five months they are yet to be paid.
They say their debtors are on their necks seeking payment for loans granted them.
Joy News' Francis Abban who was with the aggrieved contractors reported they had gathered at the GETfund office in Accra ready to begin their protest march to the Castle when a directive came that the chairman of the ruling party wanted to meet them.
Kwabena Adjei, who is also the Chairman of the board of Trustees for the GETFund was unhappy that the contractors had not exhausted all procedures to address their grievances before opting to go on a protest march to the Castle.
He said, he as the chairman of the board was not privy to their complaints.
Kwabena Adjei collected the petition from the contractors with a promise to hand it over to the president.
The Administrator of the GETFund, Sam Garbah assured the contractors they will be paid on Friday, an agreement, the contractors accepted but with a warning to go back onto the streets if their grievances are not addressed by Friday.