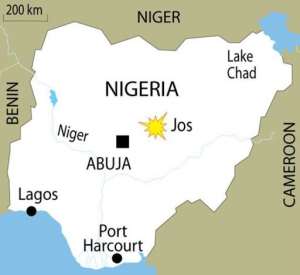 JOS, Nigeria (AFP) - Attacks in restive central Nigeria killed five people in a village and another died in the city of Jos, where a blast also wounded nine soccer fans, police and officials said Wednesday.
The explosion in Jos took place outside a centre as spectators were leaving after watching the European Champions League semi-final between Barcelona and Chelsea late Tuesday.
"So far we have nine people injured in the stampede that followed the blast outside the soccer viewing centre," police spokesman Samuel Dabai told AFP, while military spokesman Captain Markus Mdahyelya said a body was found near the scene, but could not say if it was linked to the explosion.
The gun attack occurred in the mainly Christian village of Gwa-Rim, with the gunmen thought be from the mainly Muslim Fulani ethnic group. A number of people were also wounded.
"Five people, including two children, were killed around eight o'clock last night in Gwa-Rim village by suspected Fulani herdsmen," Plateau state government spokesman Pam Ayuba told AFP.
"The gunmen went from house to house and shot their victims dead."
Thousands of people have been killed in deadly cycles of sectarian clashes between Muslim and Christian ethnic groups in central Nigeria in recent years.
Jos, the capital of Plateau state, lies in the so-called middle belt region dividing the mainly Muslim north and predominantly Christian south of Africa's most populous nation.
In recent months, bomb blasts have occurred more frequently in the region, with many blamed on Islamist group Boko Haram, whose main area of operation is the country's northeast.
According to Mdahyelya, three other people were killed in the Barkin Ladi area of central Nigeria on Sunday when unidentified gunmen ambushed their car.