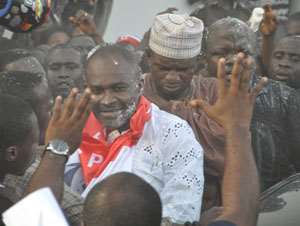 The fiery New Patriotic Party (NPP) Member of Parliament for Assin North in the Central Region, Kennedy Ohene Agyapong, has stated on countless occasions that he is willing to die if that would be the price he has to pay  for waging a fierce anti-corruption and abuse of power campaign against the ruling National Democratic Congress (NDC) government, led by President Atta Mills. His declaration of 'war' and his consequent brush with the law may just be the beginning of the road to his martyrdom, Raphael Adeniran reports.
In a classic style that has become the preferred mode of arrest of politicians by the Ghana Police, the New Patriotic Party (NPP) Member of Parliament for Assin North, Kennedy Agyapong, was on Monday April 16, 2012 invited by the Police Criminal Investigations Department (CID) to clear the air about some incendiary statements that he had publicly made.
The police were convinced that the controversial statements could ignite ethnic violence in the country.
After turning up at the CID to give an account, he was shoved into confinement. Kennedy quickly saw himself battling to repel a treason charge prescribed for him. Now, he is also being cited for charges such as genocide and terrorism.
http://www.dailyguideghana.com/wp-content/uploads/2012/04/ken_agyapong_2.jpg
Anthony Karbo, Kennedy Agyapong and Jake Obetsebi Lamptey
These charges may just be way above what he might have bargained for. Ex-President John Agyekum Kufuor described the charges as overkill. According to him, it was like 'killing a fly with a sledge-hammer'.
A Fast Track High Court has since granted the NPP MP a GH¢200,000 bail in a legal battle that is set to be a landmark case in the legal annals of Ghana.
Lead counsel for Kennedy Agyapong and MP for Abuakwa South, Samuel Atta Akyea, has also described the prosecution as 'ambush litigation'. It is not immediately clear what he meant, but critics are connecting Atta Akyea's description of the charges to the circumstances leading to the arrest of the embattled MP.
Ken's ordeals started when he made certain controversial statements on Accra-based radio station Oman FM, owned by the politician.
A clearly incensed Kennedy Agyapong was heard saying that he was privy to a general announcement being made in Asekyere, Dr. Kwabena Adjei, NDC Chairman's hometown in the Volta Region, for minors to register in the ongoing biometric voters' registration. If the allegation was true, it will be a serious breach of the Electoral Commission's (EC) regulations and, by extension, a criminal offence.
Essentially, the Volta Region is the known political stronghold of the ruling NDC; hence, according to Mr. Agyapong, if the government, the EC and the security services could look the other way while minors were being registered for elections, then in his mind, the NPP could also be justified in registering minors in their political stronghold- the Ashanti Region.
Speaking in Twi, he told the presenter on the radio programme, 'If they [the NDC] are announcing for people to register minors in the Volta Region, then we [the NPP] are also going to allow minors to register in the Ashanti Region'.
'We will not let the NDC subvert the registration process. If they have decided to manipulate the registration process, we will also do same. This is a war that we have started,' he fumed. Not even a subtle coaxing by the host of the programme for Kennedy Agyapong to tone down would stop him.
'I declare war; tell Gbevlo-Lartey (National Security Coordinator) that we are ready to challenge him. If he allows the police to look on while 300 hoodlums ransack and beat up political opponents of the NDC, then Ghanaians should wake up, fight and resist every violence in the country.'
http://www.dailyguideghana.com/wp-content/uploads/2012/04/ken_agyapong_3.jpg
Kennedy Agyapong being carried shoulder high
'They [the security agencies] should come and arrest me for declaring this war, because I don't think anybody is better than anybody else in this country'.
These highly inflammatory statements have sparked widespread controversy since they were uttered by Mr Agyapong on Friday April 13, 2012.
Certainly, the essence of the statement may be lost to anybody taking it in isolation, but when unfolding events are pieced together, the various patterns begin to emerge.
Indeed, NPP officials have theorized that the statement was made within a broader context that has a much more sinister implication on national security.
Yaw Boaben Asamoah, deputy Communications Director of the NPP, who was picked up by police on the same day as Kennedy Agyapong, corroborated Ken's reservation about the police's perceived stance on their handling of issues bordering on national security.
'I still want to maintain that I will prefer the police to be more professional,' he advised, adding,  'I think the police are losing their balance a bit when it comes to outdoor maintenance of law and order .It is incumbent on them to ensure that tensions do not boil over.'
He was however quick to add that 'rather than damn them, I will encourage them to do the best for all sides and to realize the challenges of ensuring the stability of this society'.
There are high stakes in the upcoming December 7, 2012 elections, and the self-serving interest of politicians is gradually pushing Ghana to the precipice of civil unrest, political analysts have warned. Already, there are several pockets of violence that have been recorded in the past three weeks due mainly to the biometric registration currently being conducted by the EC across the nation.
Analysts have warned that if these snippets of violence are not nipped in the bud, the chain reactions may spiral into an uncontrollable monster that would throw the country into chaos.
 
Biometric Blues
Political activities have picked up and three weeks ago, it became intense when the nationwide biometric registration exercise started, and with it came tension.
The idea of the biometric registration was hatched in a bid to rationalise the main components of elections in Ghana. It is hoped that this system would consolidate the country's budding democracy.
Last year, the EC, in consultation with the various political parties, agreed to adopt a biometric registration process to reduce the incidence of what has commonly been referred to a 'double registration'- a strategy commonly used by politicians to register potential voters as many times as possible to gain more votes.
The new register requires collating biometric data of eligible voters into a central database. This strategy will make it almost impossible for people to register several times because the system will automatically detect the anomaly and correct them. Already, over 1000 people are expected to be prosecuted by the EC for deliberately registering several times. The latest arrest is the man who registered 15 times, raising questions about the foolproof of the system.
Initially, all the political parties embraced the system, believing that their opponents would be deprived of their priced tool for cheating. However, they quickly realized that the effects swung both ways: If you suggest a system that will stop your opponent from manipulating figures in his favour, you are just as well likely to be subscribing to the same method. This philosophy obviously does not sit well with politicians; they will rather prefer the pendulum swung only to their opponents.
So the ensuing disruptions at the registration centres became a symptom of what analyst came to unanimously conclude as politicians' regret at adopting a relatively fool-proof system that deprives them of their usual antics. They needed to adopt new strategies, and quickly too.
The new strategy included intimidation at the registration centres as a way of frustrating perceived opponents from registering. It is unclear if this strategy is effective either, since there are no guarantees about outcomes of these disruptions. Peoples' choices are always flexible, analysts say.
What is clear, however, is that this strategy brought about chaos and extreme agitations.
Since the registration process started three weeks ago, over four people have been reportedly killed due to these disruptions and several scores have been seriously injured. This is the first time in Ghana's democratic history that so many people have encountered such problems from merely registering for an election. These events have compelled many to wonder what will happen on the main election date.
 
The Trigger
The NPP has maintained that the main culprit of these disruptions is the NDC: The NDC has not presented any strong argument to deny this. However, it makes its own allegation: According to it, the NPP is not entirely sanctimonious as it will want everybody to believe.
The NDC has accused the NPP of 'bussing' people to constituencies for en-masse registration to boost the figures at these constituencies. It may not be exactly bad to encourage people to register by aiding in their transportation. It however becomes nutty when those people are neither residents, nor 'ordinary residents' of the area. This contravenes the EC's regulations. Interestingly, this allegation has also been leveled against the NDC, especially in constituencies that it had marginal wins.
The reason for bussing scores of alien voters to a constituency is that political parties are aware of their weak links in all the 230 constituencies in Ghana, and in a bid to better the chances of their candidates in these constituencies, they will seek to boost the number of their loyal supporters in these constituencies to offset the balance of dominance of their opponents.
One parliamentary hopeful who appears to have become very paranoid about this threat is Nii Lantey Vanderpuye, aide to President Mills and parliamentary candidate for the Odododiodioo constituency in the heart of Accra.
He is accused of deploying thugs to physically prevent people perceived not to be residents in the area from registering. In their excitement, they erroneously concluded that since the area is a typical Ga settlement, all potential voters in the area must necessarily have Ga ethnic background. The alleged goons of Vanderpuye have gone on rampage, attacking people they perceive as not being original Gas.
 
Thuggery At Ododidiodioo
In their rampage, they also forgot that Odododiodioo is also home to perhaps the biggest local markets in Ghana, the Agbobloshie and Makola markets. The two commercial centres perhaps host up to one million people every day- both buyers and traders.
These markets contain people from all ethnic backgrounds in the country. These people have lived and traded in this area all their lives. If the non-Gas in the area are intimidated and are unable to register, more than half of the residents and 'ordinary residents' in the area would be disenfranchised.
Kennedy Agyapong's outburst was partly because of this, and was further triggered when a fellow party member, Ursula Owusu, was physically attacked by the alleged Vanderpuye thugs for daring to enter Odododiodioo to educate the traders on the intricacies of the registration process. She was badly attacked by these hired thugs and escaped death by the breath of her hair.
Suspecting a grand conspiracy to subvert the elections, the NPP was agitated by this blatant act of thuggery.
Kwabena Agyapong, one-time press secretary to ex-President Kufuor, is quoted to have said the NPP suspects that what happened in Odododiodoo is a dress rehearsal of what the ruling NDC intends to do in its bid to retain power in December 2012. However, even though the NPP has expressed this reservation, it appears there is no one to drum it home as Kennedy Agyapong did.
 
The Whistleblower
In December 2011, Kennedy Agyapong was the NPP member who was bold enough to have stepped onto the frontline to blow the whistle on the GH¢51.2million judgment debt scandal that has cited key NDC members and government officials for complicity. Kennedy's expose brought to fore the fact that the huge judgment debt paid to businessman and NDC financier, Alfred Agbesi Woyome, was fraudulent, with key government officials being privy to the shady deal.
This obviously did not go down well with the ruling NDC whose success in the December polls had taken a serious knock from the Wogomegate- as the scandal was popularly referred to.
Kennedy Agyapong was pushed to the frontline to blow the whistle on the perceived NDC grand conspiracy.
In fact, during his Woyomegate campaign, he had cause to criticize his party for not giving him the needed backing. This seeming lackadaisical attitude of the NPP towards exposing the NDC in the Woyome saga forced Kennedy to state unequivocally in February 2012 that if his party was not willing to back him the way he wanted, he would make the campaign to expose alleged corruption in the Mills government a solo affair.
According to him, he was not doing what he was doing for any political party: He said his motivation was mostly rooted in general interest of Ghana.
He is willing to die for his convictions but Kennedy Agyapong is known to possess one major flaw- his inability to control his temper.
Stepping On Toes
Kennedy Agyapong's stance obviously pitted him directly against the ruling government who felt its popularity was fast eroding due to Agyapong's 'unwarranted' expose.
A political analyst at the Political Science Department of the University of Ghana, Legon, Kwasi Jonah, says the Woyome issue will be a critical consideration of the electorate in choosing the next government.
The general public was quickly beginning to feel that contrary to its initial demeanor of prudence, the Atta Mills government was becoming wasteful: Huge resources were allegedly being channeled into phantom projects. For a period of three years, the Mills government had paid judgment debts far in excess of over GH¢650million. Several government officials have been cited for either embezzling or illegally channeling public funds. Kennedy Agyapong's constant reminder of these anomalies was deepening the woes of the government, say critics.
While dealing with an image problem brought about by these series of allegations of corruption, the NDC party was also facing its own internal problems. A faction loyal to President Mills and loyalists of the highly Charismatic founder of the party, ex- President Jerry Rawlings, were at each other's throat, threatening to break the party apart. The problem still persists.
According to critics, Kennedy Agyapong was becoming thorn in the flesh of the NDC and needed to be silenced. Attempts had already been made to do this. During the Woyomegate crusade, attempts were made to pin illicit drugs trade to him. Several government officials made allusions to this; but Ken is the man of the people, as religious leaders bought into his Woyome message.
Political analysts were convinced that the government was frantically trying to turn the heat away from itself. It was just a matter of time before the main threat to the Mills government's image problem- Kennedy Agyapong- was neutralized.
 
Ambush Litigation
Even though he felt a legitimate need to express his displeasure at what was happening at registration centres, NPP gurus contend that he flew off the handle and insinuations of ethnic attacks were just typical Kennedy Agyapong, over-stating his displeasure.
His temper got the best of him when he declared war. Now he has been slapped with the highest crime in Ghana- treason. In addition to that, he has also been charged with genocide and terrorism, like Osama Bin Laden.
Some lawyers have warned that the state may encounter a legal challenge if it proceeds to court with the charges. Nana Asante-Bediatuo, a prominent constitutional lawyer, scoffed at the charge of genocide. 'How do you charge somebody with genocide when a single person hasn't died?'
Speaking on Joy FM on Wednesday, Ace Ankomah, a senior lecturer at the Ghana School of Law, and Dr Dominic Ayine, a Lecturer at the Faculty of Law, University of Ghana, believed the government prosecutors will be better off looking for a more sustainable charge, such as causing fear and panic.
According to Mr Ankomah, he does not think treason is a feasible charge because it is a crime that covers extreme acts against one's nation. Kennedy Agyapong is known for blowing hot air without necessarily having the capacity to back these utterances up.
As to whether Ken Agyapong's statements amounted to treason, Mr. Ankomah stated, 'If it is all about language, I'm not too sure that what I heard indeed amounts to this very grave offence provided under the constitution.'
'His words were despicable…it shouldn't come from the mouth of any Ghanaian, but to my mind, the language alone may not be sufficient to sustain the charge,' he reasoned.
One time communications director of the NPP, Dr Arthur Kennedy, stated in a recent article, 'Actually, this case is more about the state of our democracy than about treason by Hon. Kennedy Agyapong. While his language was regrettable, Ken's arrest is about the abuse of incumbency, not the enforcement of our laws. Regardless of how this case is ultimately handled, it has exposed the hypocrisy and false pretensions of our country.
'When Kennedy Agyapong talked about war, he was acknowledging the state of things, not creating a new condition. Before the MP's pronouncements, there had been violence all across this country.
'If, indeed, Mr. Agyapong's words are landing him in court for treason, quite a few of our fellow citizens should have preceded him to jail and then into court. Amongst these would be President Mills for his 2008 threat to turn Ghana into Kenya if the elections did not go well, as well as Hon. Baba Jamal who declared a 'Jihad' during the Akwatia bye-elections.'
The unfolding legal spectacle promises to be promising in the coming weeks, but Kennedy Agyapong's fans are convinced that if he comes out unscathed in this dizzying legal web, he will be his usual unrepentant self. He will come down hard on the NDC government; even harder than before he was hooked by the law enforcement agencies, they say.