Mugabe urges Zimbabweans to shun election violence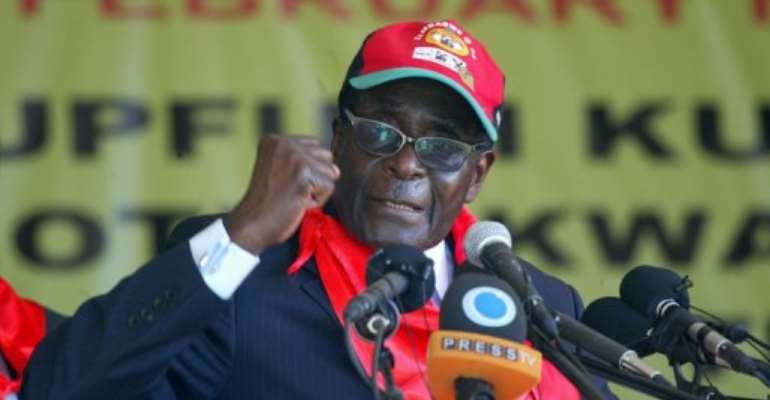 HARARE (AFP) - President Robert Mugabe on Wednesday urged Zimbabweans to shun violence ahead of elections he insists be held this year, in his first public appearance since a new wave of worry about his health.
"We are going to elections and troubles have already started. This is happening not only parties versus parties but within parties as well," he said in an hour-long speech at Harare's biggest stadium.
"All our political leaders should encourage their supporters to promote the spirit of peace and tranquillity through social dialogue," he said.
The speech to mark Zimbabwe's 32nd anniversary of independence from Britain was the first public appearance by 88-year-old Mugabe since he returned from Singapore last week.
That trip sparked new worries about his health, amid reports that he has advanced prostate cancer. Mugabe has repeatedly brushed off concerns about his health.
The government said he went to Singapore to arrange post-graduate studies for his daughter Bona, but his near-monthly visits to the city-state have raised suspicions he is receiving medical care there.
Mugabe's health is a key factor in Zimbabwe's politics, as he has no clear successor. His ZANU-PF party has already endorsed him as its candidate for the next polls.
Mugabe insists elections to choose a successor to his power-sharing government with Prime Minister Morgan Tsvangirai should be held this year.
Tsvangirai wants elections only after a raft of reforms to ensure a free and fair vote, as required under the three-year-old coalition deal.
Every election since 2000 has been marred by violence and intimidation, mainly against Tsvangirai supporters.
After winning a first-round presidential vote in 2008, Tsvangirai withdrew from the run-off citing the deaths of more than 200 of his supporters and the displacement of thousands more.