Tourism Minister Proposes Take-Over Of Paragliding Festival By Assemblies, Others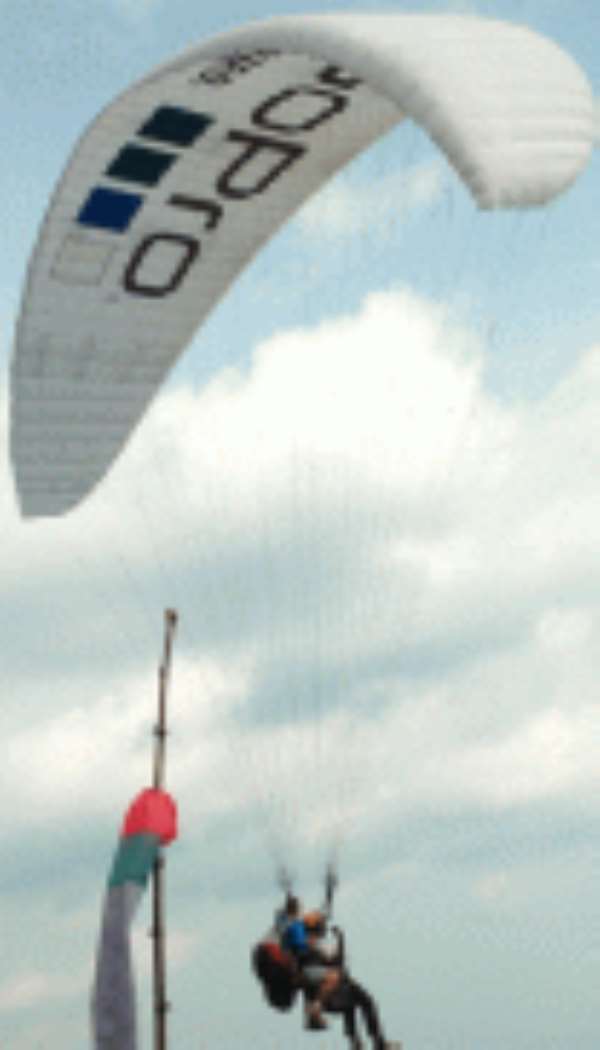 Tourism Minister, Ms Akua Sena Dansua, has appealed to district assemblies, corporate bodies, traditional authorities and the Kwahu business community to massively support or take over the paragliding sport.
That support, she said, would enable the Tourism Ministry to identify and develop other tourism products in the country.
"We have achieved substantial results in terms of increased businesses, jobs and income opportunities created in the local communities which could be improved with support of stakeholders", Mrs Dansua stated.
In a speech read on her behalf at the opening of the 2012 Okwahu Paragliding Festival at Atibie-Kwahu on Saturday, she said "support from stakeholder will raise the sport as a vibrant and vintage tourism product to boost employment and investment opportunities in the local communities.
Her speech was read for her by the by the Deputy Minister of Tourism, Baba Jamal at the festival which started seven years ago and has become one of the country's tourism calendar attracting about 22 per cent foreigner in 2011 and coincides with Easter festivities on the Kwahu Ridge.
The event, which is the seventh in a series, attracted 21 pilots from the USA, New Zealand, Japan, Austria, Brazil, Germany and Denmark, who took turns to fly both local and foreign passengers, including Mr Jamal, off the launching pad of the Mount Odweanoma.
This year's event has been expanded to include activities such as a four-day hiking expedition from Sumunakese to Adawso through to the Kwahu Ridge, musical shows, health walk, football matches, life band and street carnivals.
The tourism minister said the paragliding sport, and the tourism industry in general, had enormous potential that could be tapped not only by the government but other stakeholders to create employment and investment opportunities for the local communities.
Towards this, she expressed the commitment of her ministry to continue to promote strong public-private sector partnership in developing and promoting tourism products.
On infrastructure development, she said her outfit was collaborating with the Ministry of Communications to get companies that had erected masts on Mount Odweanoma to fund the reconstruction of the 4.7 kilometre roads from Atibie to the Launch pad as their corporate social responsibility.
The Deputy Eastern Regional Minister, Mr Ebenezer O. Larbi, stressed the need for the paragliding sport to be promoted among Ghanaians to help generate more local revenue for development projects.
He, therefore, appealed to the traditional leaders to institute a traditional festival to be celebrated along the paragliding sport.
He also appealed to the Ministry of Tourism to sponsor the training of Ghanaian pilots in the future to ensure the sustainability of the sport, saying "this blossoming, attractive and well patronized sport should not be allowed to whittle away when foreign pilots pull out".