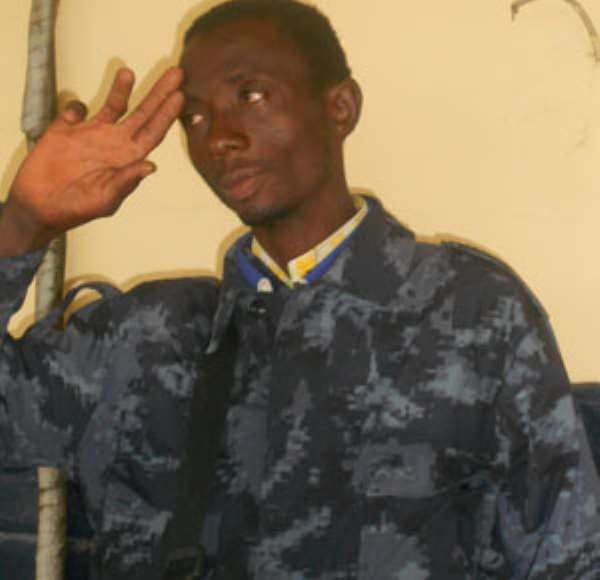 The suspect in police uniform.
THE ACCRA Regional Police Command yesterday arrested one John Owusu Fiagbenu who posed a police officer for impersonation.
Fiagbenu, 37, is unemployed and lives at Afienya in the Tema metropolis.
He was spotted at the Central Business District of Accra at Okaishie at about 9:30am wearing police uniform.
According to Sergeant Danso, Acting Public Relations Officer at the Regional Police Headquarters, Fiagbenu disclosed during interrogation that he acquired the uniform from a police officer stationed at Afienya Police Station whom he described as his uncle.
Sgt. Danso issued a stern warning to the public to stop using police or military accoutrements since illegal possession of such regalia was an offence.
'Possessing police and military accoutrement without authority is against the law,' he said stressing that people who impersonated police usually committed crimes.
He noted that the Accra region was making efforts to contact Tema to identify the so-called uncle of the suspect.
The suspect would be arraigned after investigations are completed.
Charges of unlawfully possessing police accoutrement may be preferred against him.
 BY Rocklyn Antonio