Egypt Islamists rally against ex-regime candidates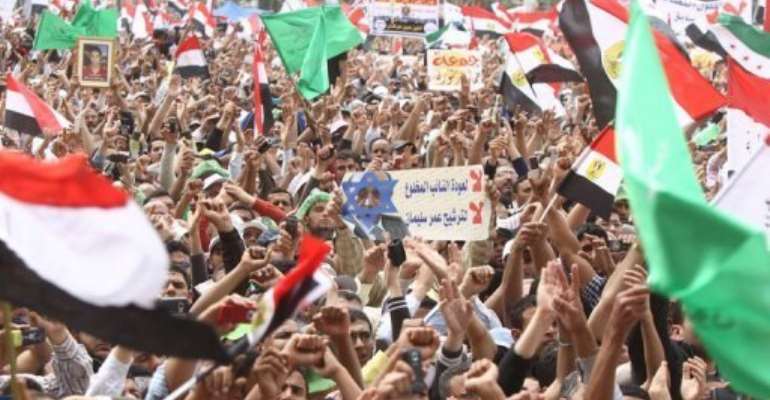 CAIRO (AFP) - Islamists were out on the streets of Cairo in a show of force Friday to demand members of ousted president Hosni Mubarak's regime be barred from politics, in a standoff with Egypt's ruling military.
Thousands gathered in an upbeat mood in the capital's iconic Tahrir Square, symbol of the popular protest movement that led to last year's downfall of Mubarak, amid chants of "No to leftovers from the old regime!"
"We don't want Omar Suleiman!" they cried, referring to Mubarak's former intelligence chief who was also briefly vice president, and who seeks a return to political life as a presidential candidate in the May 23-24 election.
The contest has pitted Egypt's powerful and organised Islamist forces against Mubarak-era officials, with only a handful of the 23 candidates representing the secular political forces at the frontline of the 2011 revolt.
Men, women and children carrying posters of Islamist politicians had come from all over Egypt, bused in from several provinces, they said.
"The political forces in Egypt may disagree over ideologies but we all agree that it is unacceptable to have members of the old regime running for public office, let alone for president," said Ahmed Abdel Mohsen, 36, a supporter of the Salafist politician Hazem Abu Ismail.
"We will keep escalating and taking to the streets until these people are out," said Abdel Mohsen, who came from the Nile Delta province of Sharqiya.
The protesters, who belong to the powerful Muslim Brotherhood and various other Islamist groups, were in Tahrir to protest against the candidacies of Suleiman, Ahmed Shafiq -- the last prime minister under Mubarak-- and former foreign minister Amr Mussa.
Liberal and secular groups also do not wish to see the return of Mubarak-era figures, but they stayed away from Friday's protest.
They have instead called a demonstration on April 20 to denounce what they see as Islamist monopolisation of political life in the country since the revolt.
"All these (secular) groups say they want democracy, but when democracy brought in the Islamists, now they are angry," said Abdel Mohsen, before another protester quickly interrupted him.
"The revolution is for everyone, don't turn this into a matter of Islamists and non-Islamists," said Hisham al-Ghatrawi, also from Sharqiya.
"We actually want to thank Omar Suleiman for coming back and reigniting the revolution," said Ghatrawi.
Friday's demonstration came a day after the Islamist-dominated parliament approved a law that would ban "any president, vice president, prime minister or leader or (senior member) of the now-dissolved National Democratic Party from exercising political rights for 10 years."
The law, which still has to be approved by the ruling Supreme Council of the Armed Forces (SCAF), could see former officials such as Suleiman disqualified.
The SCAF, which took over when Mubarak stood down on February 11, 2011, is widely seen as backing Suleiman's candidacy for president.
"The people want to bring down the military!" protesters chanted on Friday, a day after the SCAF insisted it "does not back any of the presidential candidates."
"If the military blocks this law, we will stay in the square and we will not leave until the former regime members go," said Nawal Ahmed, a protester from Cairo who came with her two children.
"No to Shafiq, no to Suleiman -- we will return to Tahrir!" the demonstrators warned.
Khairat El-Shater, presidential candidate for the powerful Brotherhood, has denounced Suleiman's attempt to make a political comeback, likening it to an attempt "to steal the revolution" and warned it could spark huge street protests.
The Muslim Brotherhood has been in a bitter war of words with the SCAF over the military's backing of the current government, which the Islamists accuse of mismanagement.
The Brotherhood's political arm, the Freedom and Justice Party, has been pressuring the military to sack the cabinet and appoint an FJP-led government after it won a crushing victory in parliamentary elections.