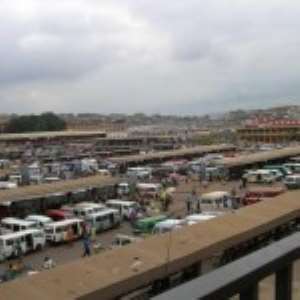 From Issah Alhassan, Kumasi
Kejetia lorry park
Authorities of the Kumasi Metropolitan Assembly (KMA), led by Mr. Samuel Sarpong, Chief Executive, could soon be summoned before Ashanti's powerful river deity, Antoa Nyamaa, over fresh curses invoked on the assembly by some aggrieved drivers and transport operators at the Kejetia lorry terminal.
Angry drivers operating at the Kejetia terminal last Saturday caused a stir, when they invoked three powerful river deities, including Antoa Nyamaa, on the city authorities, over ongoing construction of stores around the only available ventilated space at Kejetia Pampaso.
With seven eggs and two bottles of schnapps, the aggrieved drivers invoked the three river deities, River Offin, Antoa Nyamaa and the third one in Techiman, to deal mercilessly with any individual, group of people, or any authority, under whose approval the project was being carried out.
Other persons placed under the curse included the contractor embarking on the project, the owner, and all workers associated with it.
The spokesperson for the aggrieved drivers, Kwame Owusu, said there was no way they would allow work to continue on the construction, warning that 'anyone who is man enough should dare step foot on the site to work.'
Though construction work has since been halted, pending the outcome of the curse, it is still not clear who actually authorised the construction, or who is responsible for the funding of the project, as authorities of the KMA are being taciturn with information.
Tension has mounted at the terminal in recent times, after news broke out that some construction works were about to take place at the location, which happens to be the only ventilated area around the terminal.
The anxiety, however, was heightened after the said area, which is a narrow lane sitting on top of the Kejetia terminal, was cordoned with planks of wood and roofing sheets, signaling the commencement of work.
Information gathered by The Chronicle indicates that members of the Federation of Transport Unions at the Kejetia terminal have already petitioned the Ashanti Regional Minister, Dr. Kwaku Agyemang Mensah, the KMA boss himself, and the Regional Directorate of the Environmental Protection Agency (EPA), to draw their attention to the anomaly. However, nothing concrete has been done.