Ghana, India deepen talks on $1.2bn fertiliser plant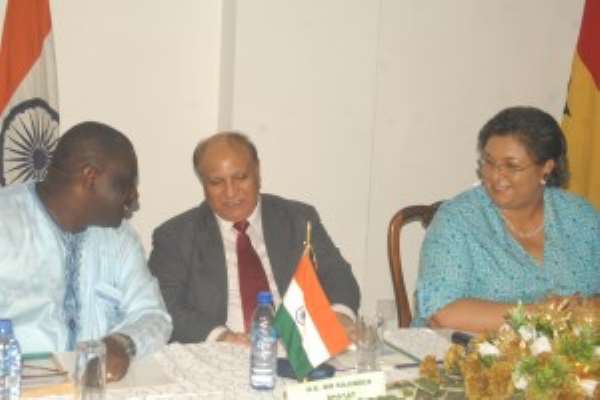 From (L-R), Seth Adjei Baah, President of Ghana Chamber of Commerce & Industry,
 By: Masahudu Ankiilu Kunateh
From (L-R), Seth Adjei Baah, President of Ghana Chamber of Commerce & Industry,
A DRAFT joint venture agreement between Ghana and India for the setting up of a $1.2 billion fertiliser plant in the Western Region of Ghana where oil and gas are produced in commercial quantities is in advanced stage of discussion.
Ghana and India have already signed the Memorandum of Understanding (MOU) for the setting up of the plant since 2010. Both governments – Ghana and India – are also working hard to conclude the deal, hopefully, by the end of this year, the Indian High Commissioner to Ghana, H.E Rajinder Bhagat has hinted.
The company, Rashtriya Chemicals & Fertilisers Limited, which is India's biggest state-run urea maker, indicated that the plant, when established, will have the capacity to produce one million metric tonnes of fertiliser.
Reports said shortage of natural gas in India, the main feedstock for making urea, is forcing companies, including Indian Farmers Fertiliser Cooperative Limited, the nation's largest producer, to build plants overseas. India's cabinet, on May 19th, 2011, more than doubled the price of gas sold to makers of fertiliser, which is used to grow crops, including wheat, sugar, rice and edible oils.
The fertiliser maker, based in Mumbai, plans to secure fuel for the project from Ghana Oil Company, and India's fertiliser ministry has approved the investment proposal, the officials said.
During his visit to India, Vice President John Dramani Mahama said the fertiliser manufacturer would produce enough to meet Ghana's requirements, and export the surplus to India and other fertiliser consuming countries.
Furthermore, statistics from the Ghana Investment Promotion Centre (GIPC) show that India's imports from Ghana in the year 2010-11, recorded $159.75 million, while exports to Ghana stood at $658.35 million.  This brings the total trade to $818.10 million, which indicates a growth of 52.2%.
According to the GIPC's foreign direct investment statistics for 2011, India stood second in terms of numbers of projects (76) registered.
India's exports to Ghana consist mainly of drugs and pharmaceuticals, machinery, plastics, and electronics among others. Imports from Ghana include edible fruits and nuts, wood and wood products, precious and semi-precious stones.
There has been an increased interest by Indian companies in Ghana during the past years, as a number of business delegations have been visiting to explore markets and to look for public, private partnership with Ghana.
India is one of the major trading partners of Ghana. There are well established Indian businesses in Ghana which are engaged in manufacturing, retail, banking, telecom, and ICT among others.
Recently, Ghana Heavy Equipment Limited (GHEL), a state-owned company, has tied up with BEML Limited, a Government of Indian firm, under which BEML Limited would be supplying heavy machines to GHEL for sale on the Ghanaian market.