GAF meets on terrorism threat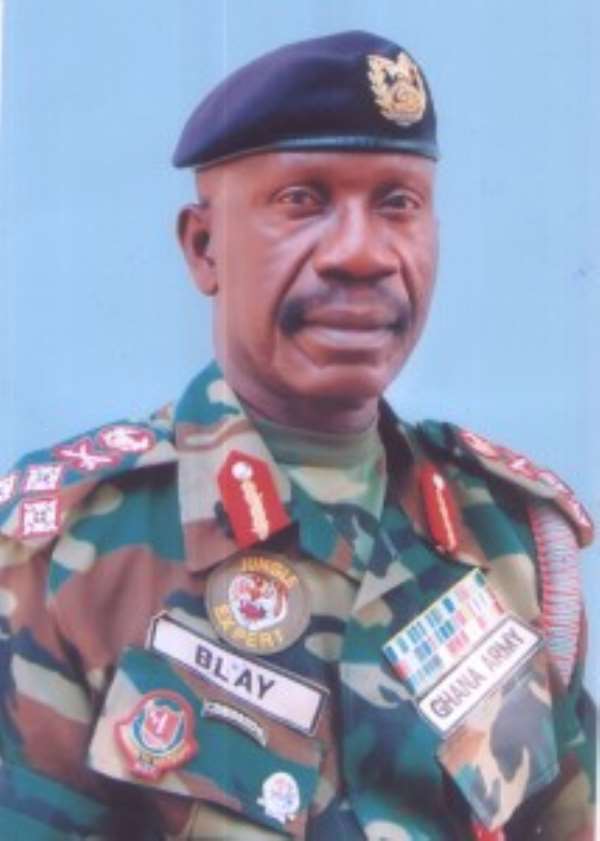 Lieutenant General Peter Augustine Blay, Chief of the Defence Staff
The Ghana Armed Forces (GAF) has held a three-day counter-terrorism seminar for junior officers and senior non-commissioned officers at the Jungle Warfare School at Achiase in the Eastern Region.
The sermiar, the first of its kind, was aimed at exposing troops to current trends in terrorism and counter-terrorism.
It was also to alert Ghanaians and the GAF about the recurrent reports of terrorist attacks in the various West African countries, especially, the recurrent reports of Boko Haram attacks in Nigeria.
The Chief of Defence Staff (CDS), Lt. Gen. Peter Augustine Blay, noted that the recurrent reports of terrorist attacks in various African countries has alerted GAF and Ghanaians that terrorism was not limited to Europe and the Americas alone.
Lt. Gen. Blay, who addressed the closing ceremony of the seminar, stressed that the Boko Haram attacks in Nigeria should inform Ghana that terrorism was getting closer, and should serve as a wakeup call for the country to sit up and strengthen its defences.
He said the realisation and threat of terrorism was becoming real, so it was thought that a mechanism should be put in place to combat such challenges in the near future, should it happen in Ghana.
He commended the facilitators for their initiative in organising the seminar, and congratulated the participants for the keen interest showed during the three-day seminar.
The Chief of Army Staff, Major General Joseph Narh Adinkrah, earlier, during the opening ceremony, said the challenges posed by the emerging threats of global terrorism, and in particular, recent terrorist activities within the West African sub-region, including piracy in our contiguous waters, has made it imperative not only to create awareness, but more importantly, to put in counter measures as well as delineate appropriate responses.
Maj. Gen Adinkrah pointed out that Ghana was now an oil producing country, and thus, highly susceptible to the potential menace of piracy on the high sea, and that the possibility of terrorist activities against our oil industry's inland infrastructure was high.