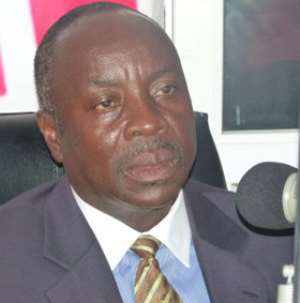 Mr. Bright Akwetey, a Convention People's Party (CPP) presidential aspirant, on Saturday began his campaign of capturing the party's presidential slot at Nkroful, the hometown of Dr Kwame Nkrumah, the party's founder.
He visited the family home of Osagyefo Dr. Kwame Nkrumah, to formally introduce himself to the elders and unveiled his plans of leading the CPP in this year's general elections.
Mr. Akwetey, a legal practitioner, said the CPP is the only party that could liberate the country from economic stagnation and truly bring economic freedom to Ghanaians.
He asked for blessings and prayers from the Nvavile Family (the clan which Dr. Nkrumah belonged to).
The Head of the Nvavile Family, Adwobia Kpanyinli, asked for God's guidance, wisdom, protection and success for Mr. Akwetey in his quest to lead the CPP in the forthcoming elections.
Mr. Akwetey and his entourage also paid a courtesy call on the Nkroful Chief and asked for his support and blessing.
He said he started his presidential campaign at Nkroful, because it is the birth place of the founder of the party.
He pledged never to turn his back on the people of Nkroful if he wins the party's presidential ticket and subsequently wins the general elections to lead the country in December.
Mr. Akwetey and his entourage also visited Kwame Nkrumah Mausoleum, where Dr. Nkrumah's mortal remains were first kept as well as River Subre, a mysterious river where Nyaniba, Nkrumah's mother, was said to have stepped on a fish but Nkrumah, who was then a child strapped at his mother's back told the mother to pick the fish.
Later, Mr. Akwetey and his entourage met CPP delegates at Essiama and unveiled his plans of contesting the party's presidential primaries and asked for their support.
GNA