Hypocritical Rawlings is part of the problem in NDC- Baako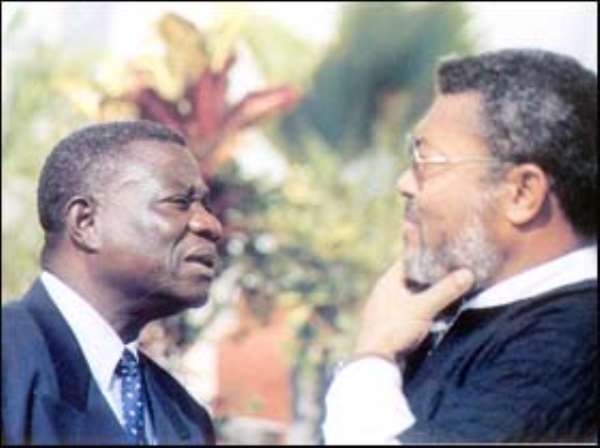 Mr. John Rawlings and President John Mills
The Editor in Chief of the New Crusading Guide Newspaper has scoffed at the attempt by Regional Ministers to reconcile the two leading political leaders in the ruling National Democratic Congress
Malik Kweku Baako Jnr. is however convinced ex-president John Rawlings cannot escape blame from the seemingly chaotic nature the party finds itself.
Last week, Regional Ministers held a meeting in the Ashanti Region during which they discussed plans, including forming a coalition of chiefs and queen mothers to assist in bringing president John Mills and his predecessor, John Rawlings together after years of strained relationship.
Upper East Minister Mark Woyongo told Joy News the coalition will attempt to get the two most influential men in the party sing from the same hymn book.
They are however yet to seek the opinion of the chief of staff before proceeding to speak to the two men.
On Joy FM and MultiTV news analysis programme Newsfile, Saturday, Malik Kweku Baako was blunt in his critique about the procedure being adopted by the regional ministers to reconcile the two men.
The timing he said was terribly wrong, and the procedure lacked tact and diplomacy- one that needed "common sense" and not a "lecture in political science" to undertake.
According to him, some of the Regional Ministers who only last year ran away from their posts in order not to be "contaminated" by Mr. Rawlings during the run-up to the Sunyani Congress now seek to return to him in the spirit of reconciliation.
He said the least they can do is to go about their reconciliation in a more competent manner than they are doing now.
Rawlings is part of problem

Kweeku Baako and Murtala Mohammed
But the Rawlings critique maintained his long time friend and foe is also part of the problem even though he has been hypocritical about it.
Mr. Rawlings and his aide Kofi Adams have always cited values and principles which they claim have been sacrificed by the Mills led administration and for which reason Mr Rawlings finds it difficult to mend bridges with the sitting president.
But Kweku Baako insisted those values and principles have to be scrutinized.
Quoting a speech delivered in Abuja by ex-president Rawlings on March 6 2010, Baako named, albeit cautiously, corruption, justice as some of the values and principles which Mr Rawlings holds so dearly and which he accuses the Mills administration of failing to live by.
For instance Mr Rawlings in that speech, stated that as part of good governance, governments have taken the responsibility to prosecute officials of the past administration who were deemed to have indulged in corruption but stated president Mills has failed in that regard.
Malik Baako insisted that the ex-president is not being fair to Ghanaians on that score and at the very least he is being hypocritical about the issue.
He said for the 19 years that Mr Rawlings presided over the country, not a single of his appointees was prosecuted for corruption offences. And when a competent court of jurisdiction found some officials under Rawlings' regime guilty of corruption under the NPP administration, Mr Rawlings described it as "miscarriage of justice".
He found it intriguing that the same man will now accuse the Mills administration of failing to prosecute NPP officials, especially, when that accusation cannot by any stretch of imagination be true.
"So you ask is he himself [Rawlings] being fair," he quizzed, adding, "Mr Rawlings certainly feels pained; there is some pain in him as a human being, even though I think that he is a bit too hypocritical when he pretends he is the only one who is been pained.
"Rawlings had a lot of colleagues around him, people who worked so faithfully for him- loyally for him- [people] who he betrayed along the line. Some died, some went into exile some went to jail. Others are poverty stricken today. They are also very pained," he said.
He said 19 years should be good enough for Mr Rawlings to learn lessons from all these in order to resolve the crisis.
Whilst agreeing in part with Kweku Baako that some officials within the former administration are being prosecuted, Kofi Adams insisted the right targets have been missed.
He cited the Issa Mobila prosecution in which he said corporals are rather been prosecuted when the big fishes who issued the command for the former CPP Chairman in the Northern Region to be murdered in 2004 were at large.
"Your justice that you are delivering may be tilted towards one side; those who directly acted and not those instructed in a structure where it is obey before complain," he said.
Kofi Adams also stated that Mr. Rawlings is always ready to stand up for his friends, especially when those friends share similar values and principles with him.
A member of the government communications team, Murtala Mohammed who was also on the show stated emphatically that none of the people jailed under the Rawlings administration were found guilty of corruption.
He said President Mills has a different style of leadership and will not acquiesce to criticisms about his style of governance.