Nkrumah's Secret Son Pops Up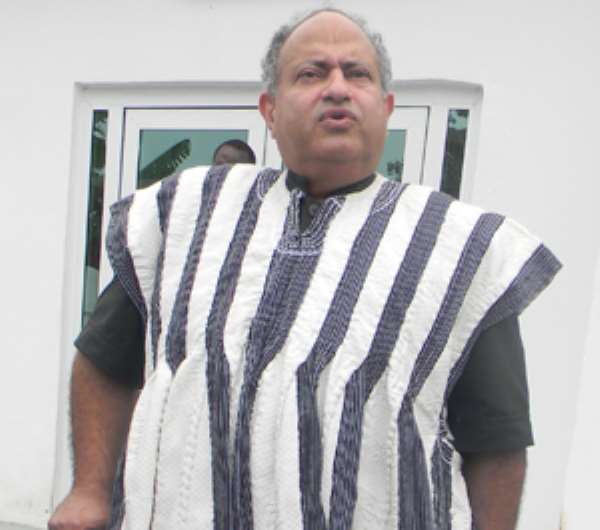 Dr. Nathan Nkrumah
A 55-year-old 'unknown' man has popped up in Accra claiming to be the biological but secret son, apparently the second born, of Ghana's first President Dr. Kwame Nkrumah of blessed memory.
The man, Dr. Onsy Anwar Nathan Nkrumah, said though many Ghanaians knew that the first President was married to Fathia and they had Gamel, Samia and Sekou, aside Prof Francis Nkrumah, he had remained the secret son of Nkrumah and that his mother is an Egyptian by name Isis Nashid who is now 80 and resides in Egypt.
It was a touching ceremony laced with tears when Dr. Onsy Nathan Nkrumah on Wednesday met with a delegation from the late President's family after spending his entire life with his Egyptian mother.
The family delegation was led by Abusua Payin Nguah Kpanyile, the Head of Family and Madam Mary Margret Quansah, a direct niece of the late Dr. Nkrumah.
The family, who had travelled all the way from Nkroful in the Western Region to Accra just for the ceremony, presented the new Nkrumah with some personal items used by the late Kwame Nkrumah.
They gave the newfound son one of the favourite smocks worn by his late father as well as one of his walking sticks and a white handkerchief.
Dr. Nathan Nkrumah explained to DAILY GUIDE why very little or nothing was known about him since he was born on March 17, 1957- some 10 days after Ghana attained political independence.
'Because I really cherish my privacy, I did not want to share much but I guess in the last few years, I allowed some people to get to me and to know me. I have decided to now settle down in Ghana,' he noted.
Aside giving the mother's name as Isis Nashid, Nathan revealed nothing about her love relationship with Ghana's first President.
'That is not a talked about subject. It was a closed and confidential subject so that is the reason why I don't go into that issue. People also can respect people's wishes for privacy. In fact in London, I had a public relations consultancy just being retained to protect my privacy. I've done that for years so it cost me money and it is not by accident that I am a private person. It is by design and by intention,' he explained.
Nathan shed some light on what contributions he would be making to the development of Ghana: 'I am really praying about this and that is number one. Number two, I was one of the founders of United Africa Organization back in 1981 and we have now created a branch in this country so we are launching that here as well as other NGO activities so far. But I am listening to God and God is confirming certain callings on me here so hopefully you would hear more.'
Abusua Payin Nguah Kpanyile and the family from Nkroful paid glowing tribute to Dr. Nathan Nkrumah for renovating their family house back at the village and providing them with electricity and modern amenities.
The Abusua Payin said the family had hitherto lived in abject poverty and in dilapidated structures until the emergence of Nathan who funded the renovation.
Miriam Sinare, a leading figure in the National Democratic Congress (NDC), whose father, Alhaji Sinare, literally married Fathia off to Kwame Nkrumah, was at the ceremony to testify that her parents had told her that the first President had a secret son in Egypt and that he would one day come to Ghana.
'When my mother saw him, she said 'yes, this is the one I have been waiting for'. Nathan is a brother to me and let's put politics aside. I have to stand by him. One day he would lead Ghana. There is more to this and my mother can tell you a lot about what actually happened,' Mariam noted.
Interestingly, none of Kwame Nkrumah's other children were at the ceremony and DAILY GUIDE asked the newfound son why his siblings were missing.
'Well, you know that we're from different mothers so we all somehow lead separate lives which is unfortunate, but that's how it is… But we know ourselves, they know me, I know them. We relate by phone sometimes, e-mail with some of them like Gamel. I see him each time I pass through Egypt and I see him more than the other siblings,' he stated.
By Halifax Ansah-Addo