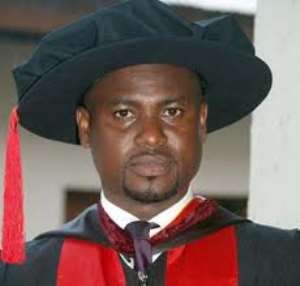 Abeiku Santana
By Helena Selby
Available information reaching The Chronicle indicates that the 'Super Lunch Time' host of Okay FM, Gilbert Abeiku Aggrey, alias Abeiku Santana, is seeking to part ways with his better-half, as a result of which he has filed legal documents for a divorce at an Accra Circuit Court.
Abeiku Santana, who was a former employee of Adom FM, a private radio station, is said to have married his wife on October 20, 2005, at the Registrar General's Department, Tema, in accordance with the Marriage Ordinance Cap 127, and they co-habited at Community 18, Tema, and subsequently at Manet Court on the Spintex road in Accra.
According to the petition submitted by Abeiku Santana, his wife has behaved in such a way that he could not live with her.
The petition further indicated that both parties have not been able to enjoy conjugal nights for the past 12 months, and that the respondent had threatened to destroy his reputation in the eyes of the right thinking members of society.
Abeiku Santana is, therefore, requesting the court to dissolve the marriage, since family members of both parties have failed to resolve the differences existing, after persistent attempts.
He is seeking to be given access to their eight year old child, while the respondent be given custody of the child, but emphasised that there was no issue of property settlement between both parties.
The petitioner, therefore, asserted that the court, presided over by Mrs. Patience Mills-Tetteh, may 'determine other ancillary matters as it deems fit and just.'
Mrs. Margaret Aggrey, in her response to the petition, agreed that the marriage should be dissolved, since she could no longer continue to suffer humiliation, hardship and emotional stress as a result of Abeiku Santana's behaviour.
She said her husband had behaved in such a manner that she could not live with him, as he accused her husband for putting up behaviours, which had led to the total break down of the marriage.
She demanded a payment of alimony in the sum of GH¢60,000, as well as custody of their eight year old daughter.
Mrs. Aggrey is further demanding an 'up-keep and maintenance allowance pendency' and a reasonable share of her husband's assets acquired during the marriage, wherever the asset is situated.
The respondent said house number one, Tieso, situated at Community 18, should be settled on her, as part of financial provision, and that Abeiku Santana pay the cost of her legal fees. The court fixed April 20, this year, for hearing.