Vice President inaugurates 47 vehicles for NADMO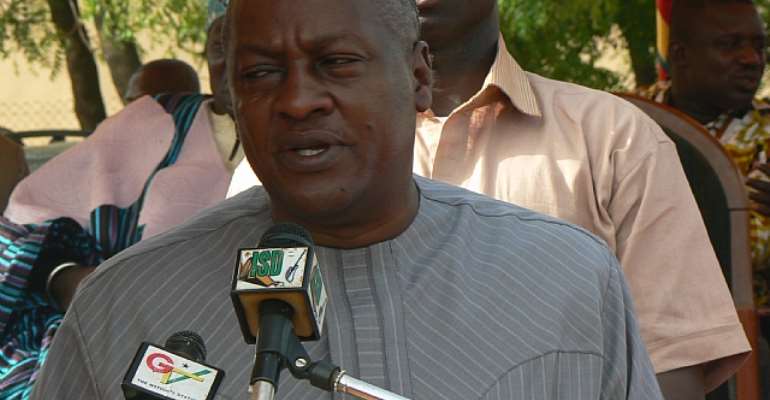 Accra, April 4,– Vice President John Dramani Mahama, on Wednesday inaugurated 47 vehicles worth more than 8.5 million dollars, with a call on Ghanaians to step up tree-planting projects to mitigate disasters.
He said: "most of the disasters that occur could have been prevented if trees were planted to serve as a wind break".
Vice President Mahama received the vehicles on behalf of National Disaster Management Organisation (NADMO) at Baatsona in Accra.
It was part of Japanese assistance named, "Program for the improvement of Capabilities to cope with natural Disasters caused by Climate Change."
The vehicles were made up of 21 cargo trucks, seven water tankers, seven tipper trucks, four bulldozers, four excavators, two graders and two low loaders.
Vice President Mahama called on the people to embark on preventive measures to avoid disasters and recalled that last year, floods, rainstorm and windstorms caused havoc in about 950 communities throughout the country.
He said 20,000 acres of farmlands and 14,899 houses were destroyed, a number of bridges and roads were washed away, 744schools were destroyed and more than 228,000 persons were affected including children and women.
The Vice President said in the first quarter of this year, 1,942 people have so far been affected by rain storm, out of which 61 percent constitute children and 23 percent women.
He said that "due to the magnitude of these disasters, the combined resources of the government and multilateral and bilateral agencies have not been adequate and the gesture of the Japanese Government was commendable.
Vice President Mahama said 12 more vehicles made up of six pick-ups and six pajeros would be added to the fleet of vehicles by June.
He assured Ghanaians that the Government would not renege in its responsibility to ensure safety and security of its citizens, especially in times of disasters and said "this requires great political, financial, social and cultural commitment and support to responders during disasters, especially NADMO and stakeholders agencies."
Mr Naoto Nikai, Ambassador of Japan to Ghana, said the equipment would assist Government to respond to the needs of people affected by disaster promptly.
He said NADMO Strategic Plan 2008-2013 is to cover disaster mitigation, recovery and reconstruction, and tasked the organisation to maintain and utilize the vehicles effectively.
Mr Nikai said that the Government of Japan was committed to assisting other countries in the mitigation of effects of climate change, and the adaptation to new environment.
He said that 'it it natural for us to cooperate in responding to issues arising from climate change.
Mr Kofi Portuphy, National Coordinator of NADMO, said the arrival of the vehicles marked other achievements in the better Ghana Agenda, and pledged that the vehicles would be used for the intended purpose.
He expressed his gratitude to the people and Government of Japan for the offer, and said the provision of the vehicle was timely and preparedness to respond to flooding.
GNA