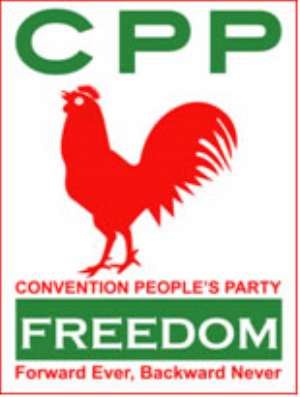 Accra, March 18, GNA – Mr Torto Nabi Adjah, Convention Peoples Party (CPP) parliamentary aspirant for Dadekotopon in the Greater Accra Region, has appealed to the youth to engage in decent and meaningful jobs that could guarantee their future.
He said he would support initiatives for sustainable socio-economic growth, aimed at reducing poverty and improving the living standards of the people, particularly those in Dadekotopon, if elected as Member of Parliament for the constituency.
Mr Adjah was addressing delegates of the Dadekotopon constituency after he was declared winner of the constituency primaries by the Electoral Commission on Sunday.
Mr Adjah won 57 votes to beat Mr Simon Sowah, who pulled 45.
Mr Adjah said he would support Government's efforts aimed at promoting economic activities to create more employment for the people.
Mr Adjah thanked delegates for the confidence reposed in him and gave the assurance that he would work hard for the CPP to wrest the seat from the National Democratic Congress.
Mr Sowah congratulated Mr Adjah for his victory and said: "Lets us all support him to win the Dadekotopon constituency seat for the CPP."
Mr Nii Amah Akomfah, CPP constituency chairman, said the party was set to win the 2012 Election and asked supporters to rally behind the parliamentary aspirant to enable him win the seat.
He appeal to CPP members to avoid politics of insult and concentrate on issues-based electioneering to sway Ghanaians to vote for the CPP to save them from their current suffering.
Mr Akomfah said: "The New Patriotic Party and the National Democratic Congress have done their part; it is now left with the Nkrumaist to take charge of the country and safe Ghanaians."
GNA